Find on-page SEO problems and fix them right away
Automatically crawl multiple client sites at once to find content and technical on-page SEO issues on all of the pages. Find and fix issues including duplicate content, missing meta tags, duplicate titles, faulty images, wrong canonicals, redirects, server errors and much more.
150+ metrics
Scan for more than 150 onpage SEO issues

Discover trends
Find trends in SEO and respond smartly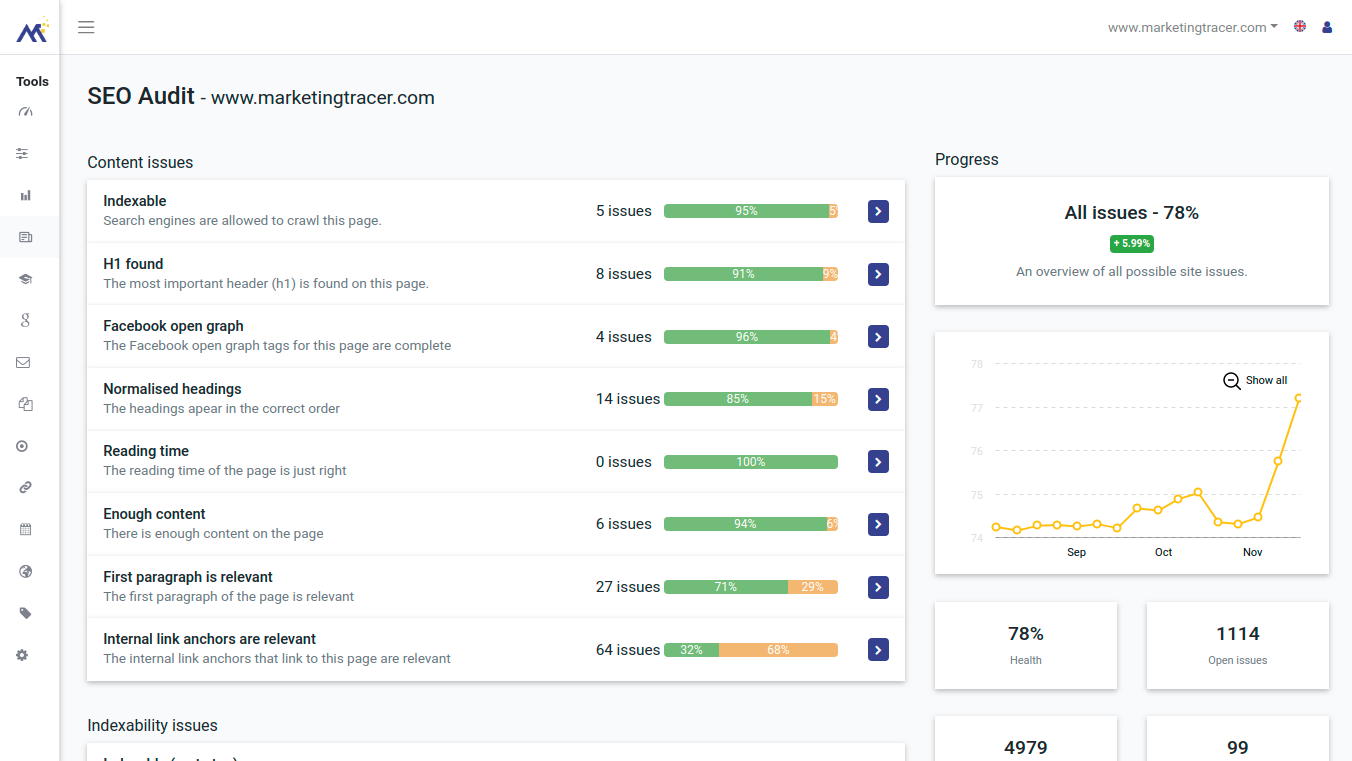 Sort by priority
Find the most important issues immediately!

Integrated solutions
Tips and suggestions for resolving errors
SEO Audit core feature:

Intelligent SEO total overview

You need to keep a close eye on your SEO. The SEO audit tool helps you do that! See instantly exactly what is going on on the site, what has changed and review the impact of these changes.
---
We make SEO Auditing as smart and intelligent as possible for you. We actively check your website for more than 150 factors and present the results by expected impact.
We are constantly on the lookout for the big wins for your sites. That is to say: the changes that have a major impact on your search engine positions and can be easily improved.

Off course you are in full control. The intelligent overview is just your entrance page. Explore, sort and filter all pages with specific problems such as missing titles, slow server response, duplicate content or whatever you want.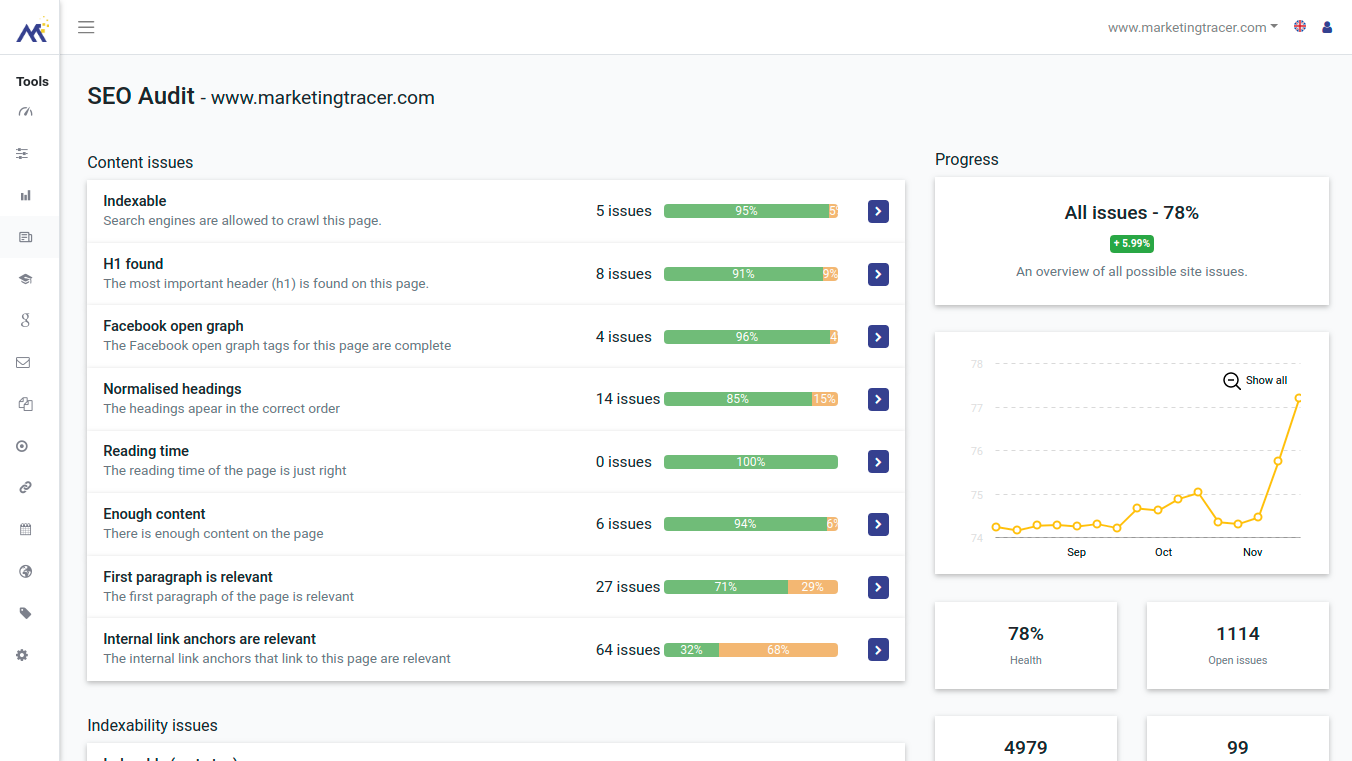 SEO Audit core feature:

Real-time Scan

Data must be reliable, 100% correct and available in real time. Immediately check the impact of any changes that you make.
---
You have to be able to trust data, because SEO has changed and making decisions based on old, cached data is no longer viable option.
That is why the MarketingTracer SEO Audit is the only Auditing tool that always delivers real-time results. Because we believe you should be able to immediately check any changes you make, our scan is available 24 hours a day to check all your pages.
Do you need to wait for those real time results? No, of course not, we crawl and analyse your in real time in the background while you can keep working with the MarketingTracer On-Page auditor. This means you never have to wait for our crawlers to finish. As soon as we have new data, we will push it directly into the live SEO results.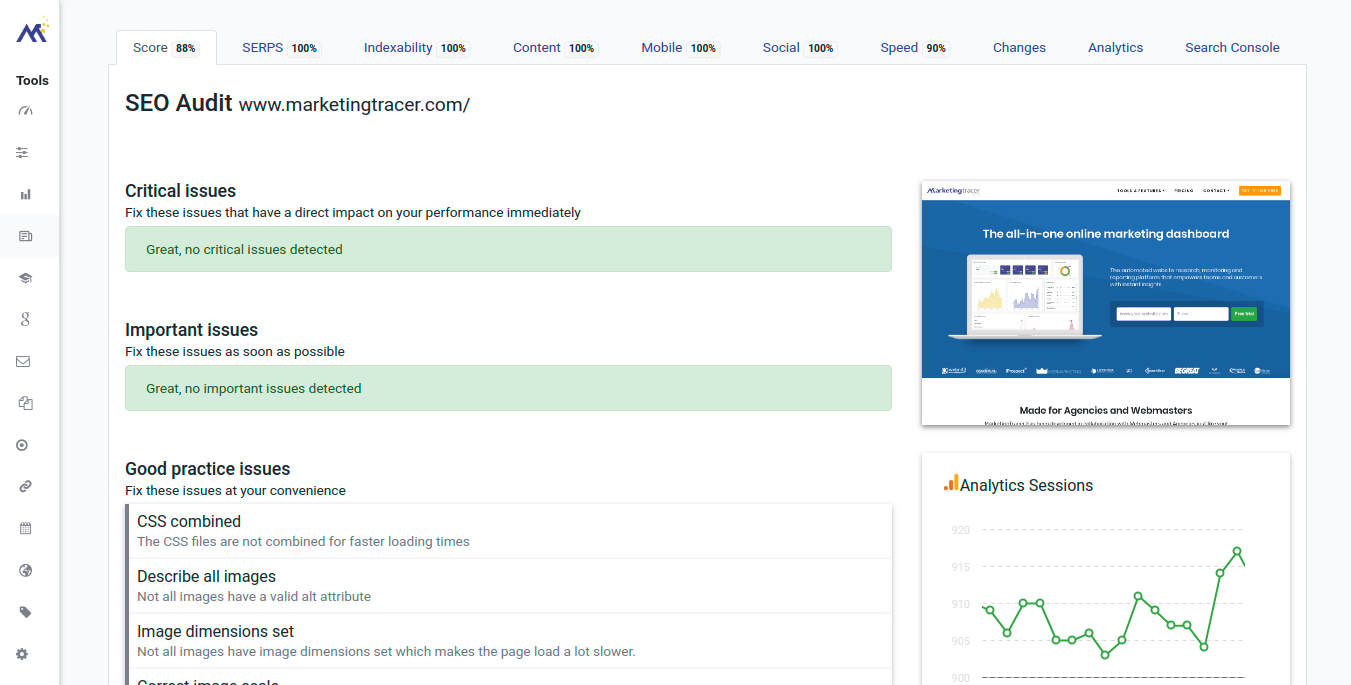 SEO Audit core feature:

Context relevant help and tutorials

The SEO Audit tool should do the work for you. Therefore, we will not let you guess what a metric means. We help you with the clearest explanation possible.
---
Online marketing is getting bigger and less comprehensive. Everyone has his or her own specialism and brings their own qualities tot the team. We think it is important that everyone, with and without expert SEO knowledge, should be able to immediately start working with the SEO auditor.
Therefore, alongside every metric in MarketingTracer, you will find a full explanation of why this issue is important, what you can to improve it and how it works.
This built-in information also ensures that new team members can get started quickly and efficiently.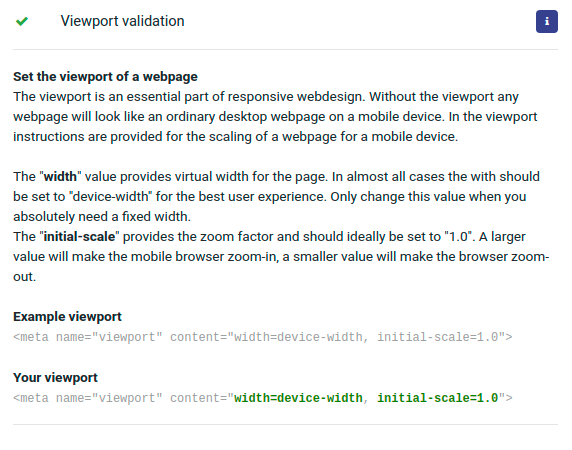 SEO Audit core feature:

Visual SEO explorer

Sounds familiar? You notice a on-page SEO issue and have to go though every line of code to find the source? Not anymore!
---
With the SEO audit of MarketingTracer you quickly get an overview of all issues on a site. But then what? Do you have to dig though all the code to find out exactly where the wrong tag is located? That doesn't seem a very effective way to work to us.
That is why MarketingTracer is the only onpage Audit tool that give you the the Visual SEO Explorer. When we report a problem you only need to hover over the issue. The visual SEP Explorer will immediately appear as a desktop or mobile screen and will show you where, on the page, the problem occurs.
It isn't just an amazing cool feature. Just imagine the time that saves you.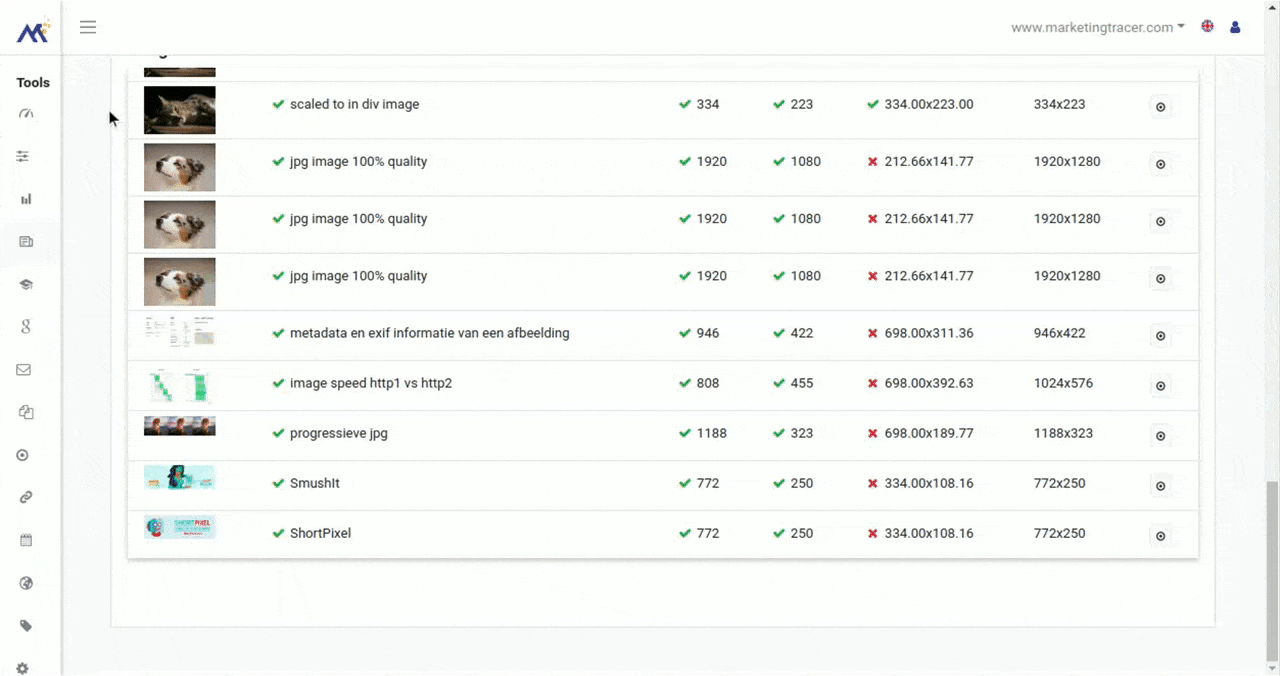 SEO Audit core feature:

Page Speed

Page speed is becoming increasingly important. Not only for Google but especially for your conversion rate.
---
The MarketingTracer SEO Audit is integrated with Google lighthouse. The best page speed scan of the moment. We regularly scan every page of your website with lighthouse and report important speed metrics back to you.

We keep an eye on the loading times and also how quickly the first, the most important and the last content can be found on the screen, the impact of your stylesheets, JavaScript. Everything actually.

We report a clear overview of your page speed and accurate tips on how to improve the speed of the pages. Know the impact beforehand with speed gain estimations for each speed factor.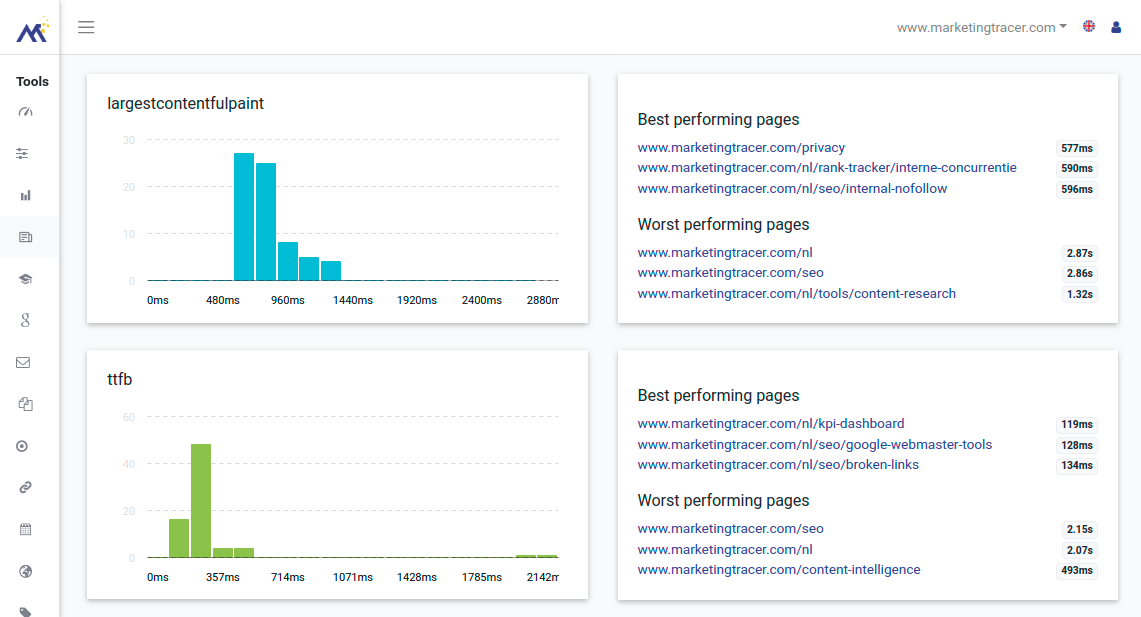 SEO Audit core feature:

find duplicate content

Duplicate content makes pages less unique and often creates internal competition, small pieces duplicate content are practically impossible to detect manually.
---
The MarketingTracer Onpage SEO Auditor quickly detects all duplicate content in your site. Whether it concerns exact match duplicate titles, duplicate lines or entire pages that are too similar in content, that does not matter to us. We find them all for you.
Once we have found them, we present them together neatly and clearly for you to solve the duplicate content issues in no time. Handy, right?

The SEO audit provides an almost real-time overview of all SEO problems and opportunities. The Dashboard continuously crawls your website and scans for more than 50 on-page SEO problems. Possible issues are divided into 6 categories
Search engine presentation (SERPS)
Indexability
Content
Mobile
Technical
Social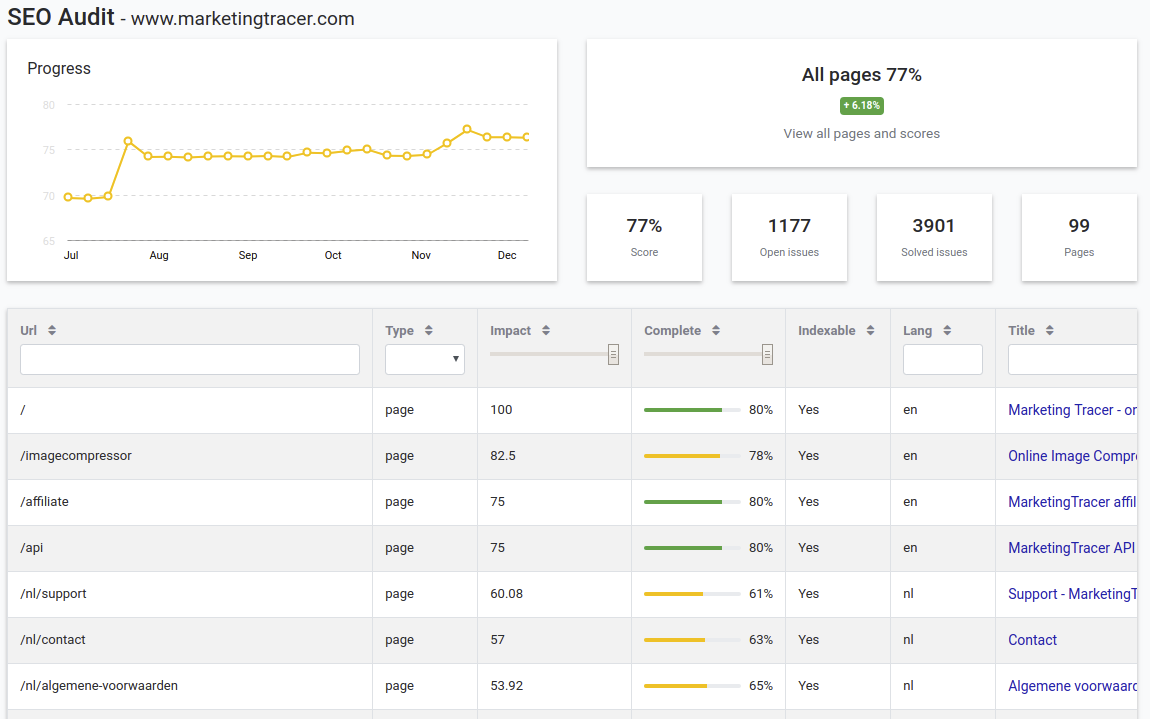 The page view gives an overview of the SEO audit per page. In this quick overview you see the impact score, the SEO score, the type (page, redirect etc) and more important information such as the indexability of the page, the language, the title, meta description and the most important heading (h1)
Impact score
By default, the SEO auditor is sorted by impact score. The impact score is calculated daily based on real-time Google results. The impact score always runs from 0 to 100 with 100 having the greatest impact on your site performance and 0 having the least.
The impact score indicates which page can benefit the most from On-Page SEO improvements. We look at the quality of the page, the internal page rank (the number of internal links to the page), the possibility for improvements and the expected impact of these improvements.
Sorting and filtering
In addition to the standard sorting, the SEO auditor can show you exactly those pages that are important to you through various filters and other sortings. For example, all pages that are less than 60% complete or all pages that are not indexable.
Unimportant pages with a high impact score
2 important factors in calculating the impact score are the page quality and the number of internal links. If you have many links to a less well-optimized page, this page will quickly jump up in the overview. We are, for example, often with contact pages, 'about us' pages. These are often many linked pages with little content. In that case, we recommend that you improve the page in order to show Google as many high-quality pages as possible. If you don't want that, ask yourself if this page deserves all the internal backlinks it gets.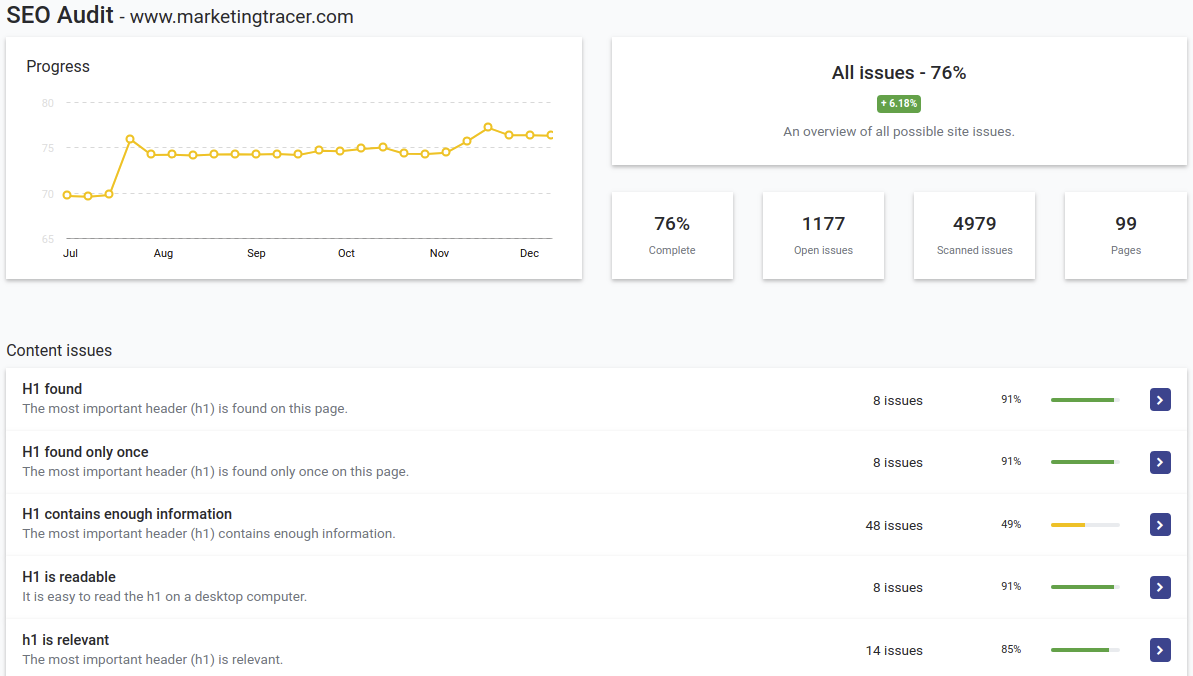 The issue view gives an overview of all possible SEO issues and looks for which page this issue has not yet been resolved. In this quick overview you can see the issue we are scanning for per category. You see how many issues are open and how many percent of these issues are resolved site-wide. Click on an issue to get a page overview of all pages where this issue has not been resolved..
Solve SEO problems in bulk
SEO problems are often not difficult to solve but time consuming to find. The issue overview is extremely suitable for finding SEO problems directly and resolving them in bulk. After you click on an issue, for example 'correct title length' you get an overview of all pages where the title does not have the correct length. You can now get started right away to resolve these issues quickly.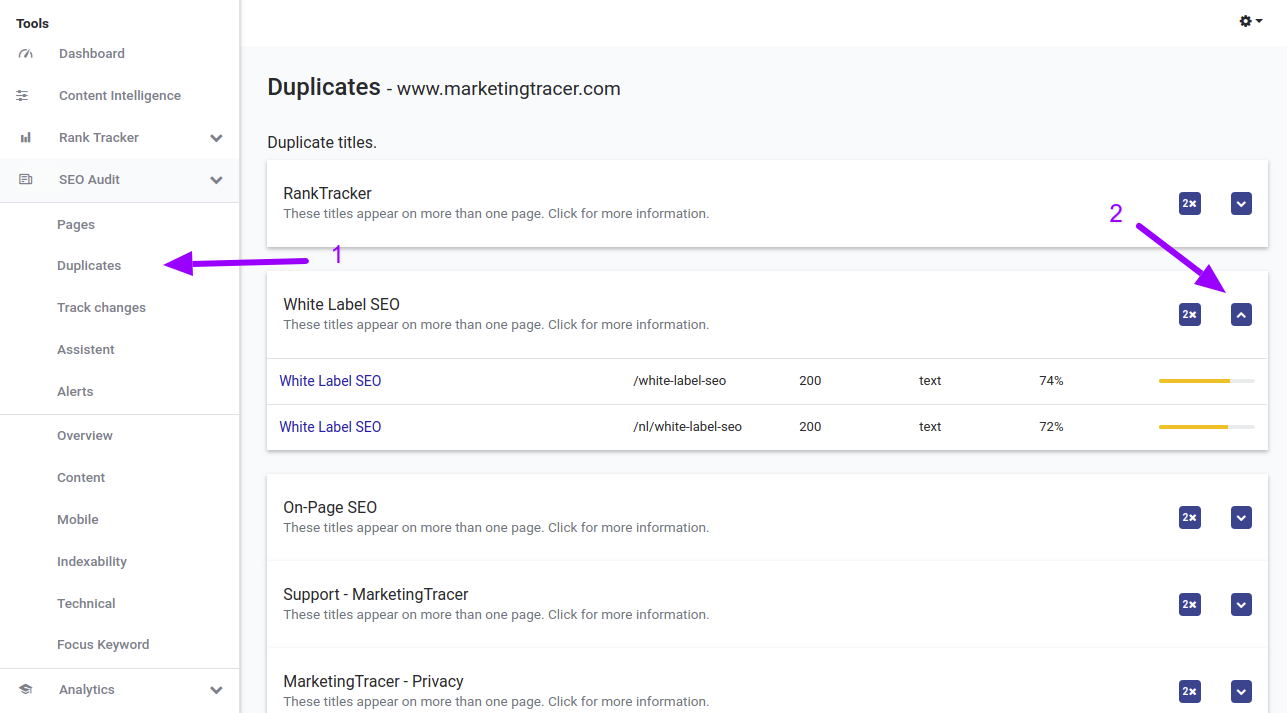 The duplicate content view gives an overview of all duplicate content that we have found on your site. We are looking for::
Duplicate or similar content
Duplicate titles
Duplicate meta descriptions
Duplicate first paragraphs
Duplicate H1's
What is duplicate or similar content
Our vision: every page on a website must be an addition and must contain unique content. The SEO Dashboard therefore does not analyze all text on 'words level' but with artificial intelligence. Via BERT encoders we analyze the content and know exactly to what extent the 'intention' of one page corresponds to another page. This way we can find equivalent content without the text being written exactly the same.
Solve duplicate content issues
As soon as we find duplicate content, we will display it on this page. Click on the duplicate content to see on which pages we have found duplicate content. Then you can solve this. Some common strategies for solving duplicate content are:
Rewrite content so that it becomes unique content.
Merge content so that 2 or more pages become 1 page.
Add a cannonical url so that you indicate that only 1 version of the content needs to be indexed.