The smart SERP tracker at the most competitive price
MarketingTracer is the number 1 SERP tracker currently on the market! Our SERP Tracker is simple, easy to use and updates your rankings daily. The tool is perfect for competitive niches and webmasters who want to maintain complete control over their Google SERP results! We offer a free trial and help you track your keywords for the Google search engine results page.
Real and accurate results
Real browsers will retrieve the most reliable results for you.

Intelligent checks
The SERP Tracker provides intelligent information about the health of your positions.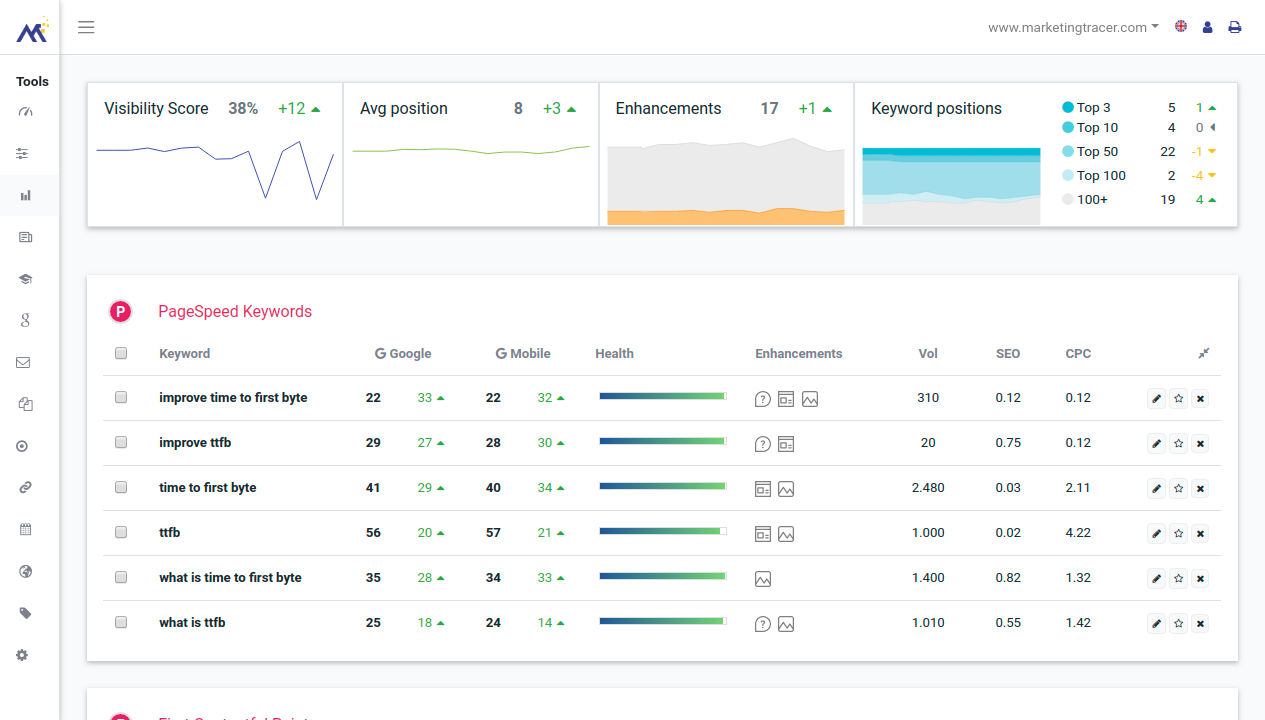 Local results
Measure and compare local search results in addition to Desktop and Mobile.

White label
Present the search results from your own branded white label environment, to your customers.
SERP Tracker core feature:

Daily SERP tracking

We retrieve the search engine positions for all your keywords on desktop and mobile every day
---
You don't want to work with old data, do you? MarketingTracer SERP Tracker ensures that you can always measure the results of your SEO campaign with the latest SERP results.
The MarketingTracer SERP tracker gives you the most efficient and advanced search engine tool available. Our adaptive technology retrieves the positions of all keywords daily with real browsers.

These real browsers provide the most reliable position tracking you can find.
Group and check the rankings of your keywords. Easily find declining rankings , rising rankings , internal competition in Google's Mobile , Local and Desktop index.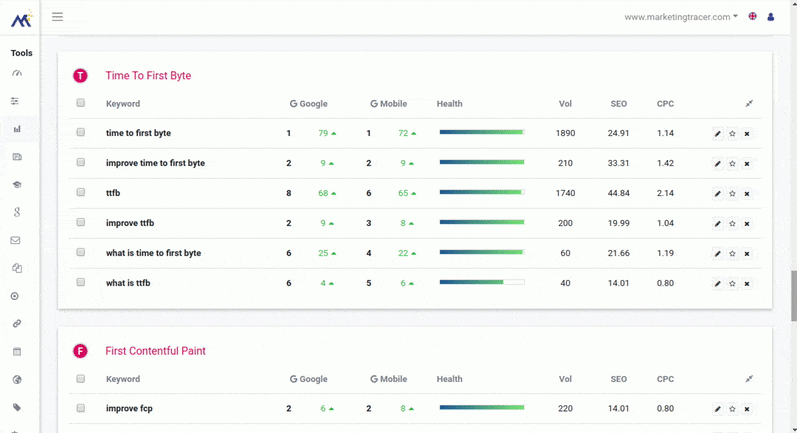 SERP Tracker core feature:

Desktop and Mobile results

We retrieve the search engine positions for all your keywords on desktop and mobile every day
---
MarketingTracer is the only SERP Tracker to see both the desktop and the mobile results in 1 overview. So no more confusing lists where the occasional search is where a result comes from. We collect both for you and put them next to each other.
Why Desktop and Mobile you might wonder? Because Google works with a mobile and a Desktop index, we of course just do that. Check daily how your keywords and pages are doing in both Google's mobile and desktop index,
If you find a difference there, it is a sign that something is wrong and you can find out what exactly happens with the positions of your keywords.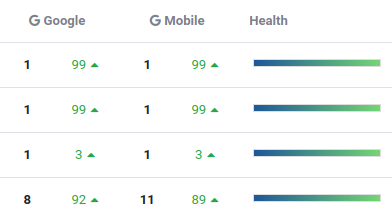 RankTracker core feature:

Insights

Quick monthly insight into falling and rising keywords of your customer
---
When tracking multiple keywords over a longer period of time, it is unnecessarily complicated to find daily, weekly and monthly trends. Most agencies prefer quick insight into the most important SERP changed.

That is why MarketingTracer is the only SEO tool that offers 'SERP tracker insights'. SERP Tracker insights shows you the SERP changes that have the highest impact per week or per month. Sort the results by the absolute increases or decreases in SERP position or by expected traffic change. As always, the choice is yours !!.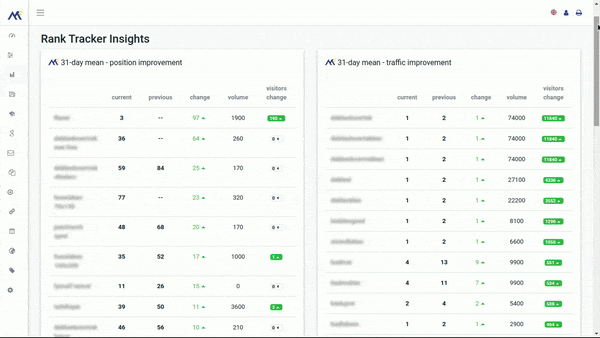 SERP Tracker core feature:

Track SERP enhancements

Track SERP enhancement for SERP traffic boosts
---
SERP enhancements extensions such as featured snippets, reviews, maps, and images can provide a significant boost in organic traffic. Every day we track which keywords receive an enhancement in the Google SERPS.
Compare your and your competitors SERP features over time, and discover where you have not yet qualified for these features and discover opportunities to steal your competitors SERP enhancement

Discover possibilities and opportunities to optimize your content for SERP features to get that traffic boost.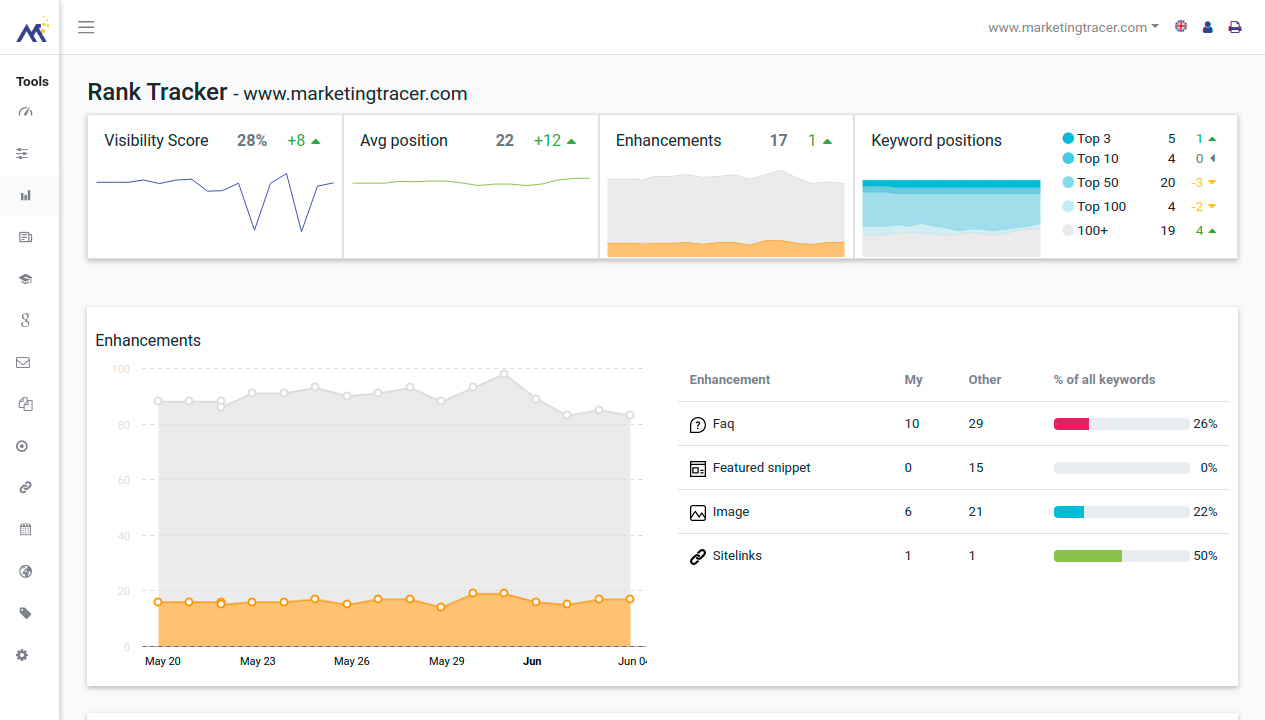 SERP Tracker core feature:

Filer and sort results

We do everything we can to give you more insight into the keyword positions by sorting you by tag, position, volume and health.
---
We believe that the positions we hold should speak for themselves. But yes, a list of 200 keywords is not very visual. You quickly miss important trends and overlook drops or rises in the SERP tracker.
That is why you can group keywords via a label. From now on you will see keywords that belong together in 1 group. This gives you a quick insight into the performance of important ones of your website.
Are you curious how the short tail keywords fare in the SERPS? Then sort by volume.
Are you looking for keywords that don't reach their full potential? Then sort by health and find keywords that should be looked at carefully.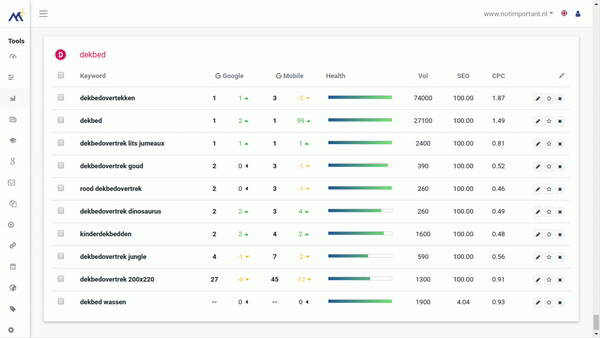 SERP Tracker core feature:

SEO Health score to quickly detect (hidden) drops

Report the SERP tracker results whenever you want in your own house style
---
Most SERP Trackers have one major drawback. The starting point is not always the best point to start measuring. That is why the MarketingTracer SERP Tracker is the only one with the health score. The health score indicates how healthy the current position in the SERPS is compared to the best position.
Sometimes an increase or decrease in search engine results is not everything. Suppose a keyword has risen from position 30 to position 5. A SERP tracker then reports an increase of 25 positions. That sounds good, but for the sake of convenience we forget everything that happened between the starting position and the current position. What if you have been at number 1 for months and have dropped back to position 5 in the past week? In the 'normal' SERP tracker overview you would soon miss this drop. That is why we calculate health for every keyword. This takes into account increases and decreases over a period of time. This way you immediately get a better picture of the health of your website.
Is the health not 100%? Then the keyword once presented better than the current position.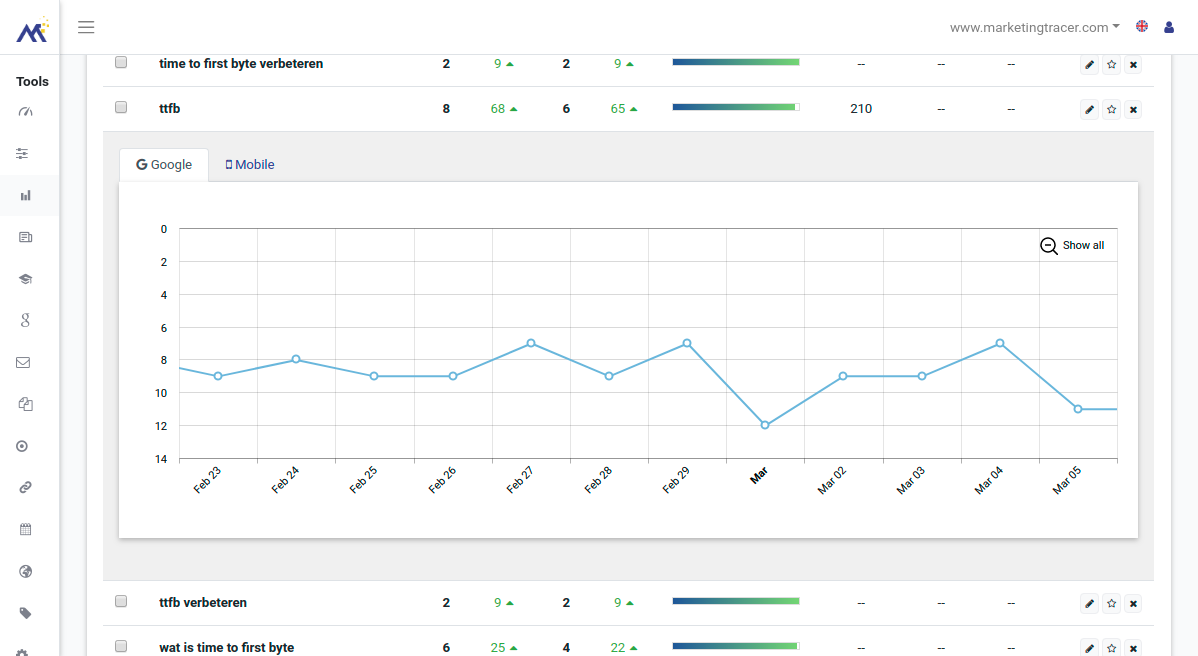 SERP Tracker core feature:

Customizable, white label SERP reporting

Report the results of the rank tracker in your own house style. Choose an extensive report including competition analysis, a summary report or the visibility index. The choice is yours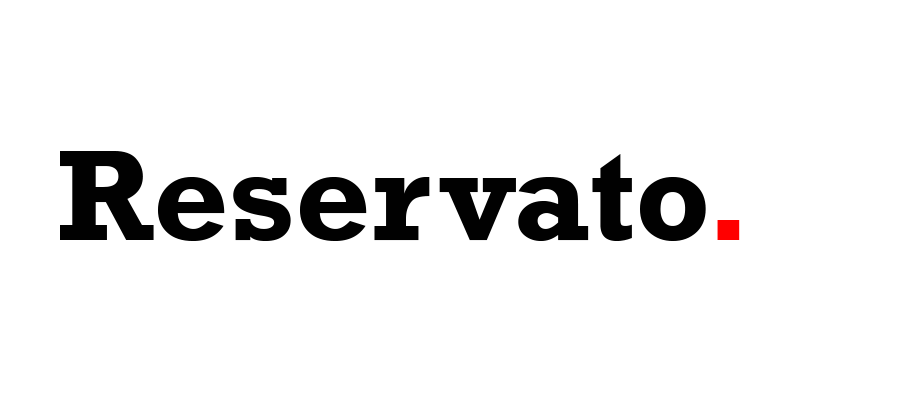 1.
Why would you need serp tracking?
First of all SEO is circular. Content that ranks gets noticed and trusted. Trusted content attracts backlinks and backlinks boost your ranking.
Secondly: monitoring keywords will help you detect trends. Strong content clusters that speak to your audience will likely rank higher while poor or irrelevant content will rank lower. Your serp results are a reflection of your 'audience fit'
The best way to achieve better rankings is to monitor a large selection of keywords over time. Identify pages that rank well and use this information to improve pages that yield less results. Identify keywords that consistently rank well and create more content around these keywords.
2.
What does health represent?
Health indicates the difference between the current position in Google and the top Google position of your keyword as currently found in in the Rank Tracker
Why is health important?
Suppose you start tracking a keyword at position 50. Then the keyword climbs to position 1 and after a while it drops back to position 10. You will see an increase of 40 positions in the overview. That seems good, but in the meantime you have dropped from position 1 to position 10. That is of course not so ideal.
That's exactly what health monitors. How well the keyword performs, not against the start position but against the top position.
3.
How frequently are keywords updated?
Keywords are updated daily. When a keyword position is stable for a longer period of time, we may update it less often. When a keyword changes often, we will update it daily
4.
How long does it take to retrieve keyword positions for the first time?
Keyword positions are retrieved daily by the ranktracker. It can therefore take up to 24 hours before your keywords posisions are updated for the first time. Usually the first keywords are updated within half an hour.
Keyword volume, SEO difficulte and CPC are retrieved independently of the keyword positions. These are usually retrieved within a few hours.
5.
What is a keyword limit
You are allowed to track 200 keywords with the Rank Tracker. We have a fair use policy for agencies. This means that Agencies can add more than 200 keywords as long as, on average, about 200 keywords are added per site.
Why is there a keyword limit?
The rank tracker is designed to keep detailed track of your rankings for the most important terms and for the pages you are currently targeting.
The best way to track rankings for a large number of keywords is not through the rank tracker but through the Search Console integration. Google keeps track of which keywords were clicked for your site and even in which searches you appeared and in which place you were per day.
You can easily integrate your Search Console data into the tool so that you can keep track of an unlimited number of keywords via Seach Console.
6.
Discover internal competition with the Rank Tracker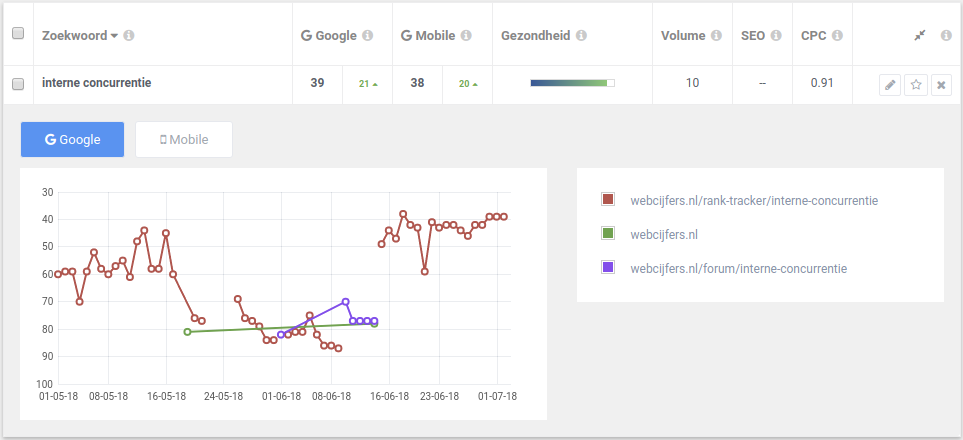 Internal competition occurs when 2 or more pages rank on the same search term, which often results in lower positions. Internal competition is double sin, an extra page ensures internal competition which results in low search positions. It is important to ensure that Google knows which page should be displayed with which search term. Fortunately, you can look it up quickly with the MarketingTracer rank tracker. .
The problem with internal competition
Internal competition can cause a huge problem for a large website. Internal competition occurs when Google finds multiple relevant pages for a search within a site. Internal competition often ensures that both pages end up lower in the results, because Google often sees internal competition as a sign of low quality.
Track internal competition with the rank tracker
The Rank Tracker is designed to detect internal competition. MakretingTracer keep track of which pages can be found in Google for a search on a daily basis. When we find "harmful" internal competition, the keyword's health indicator will go down considerably. This is a sign that the keyword must be looked at. Click on the keyword to see which urls rank and which positions to rank.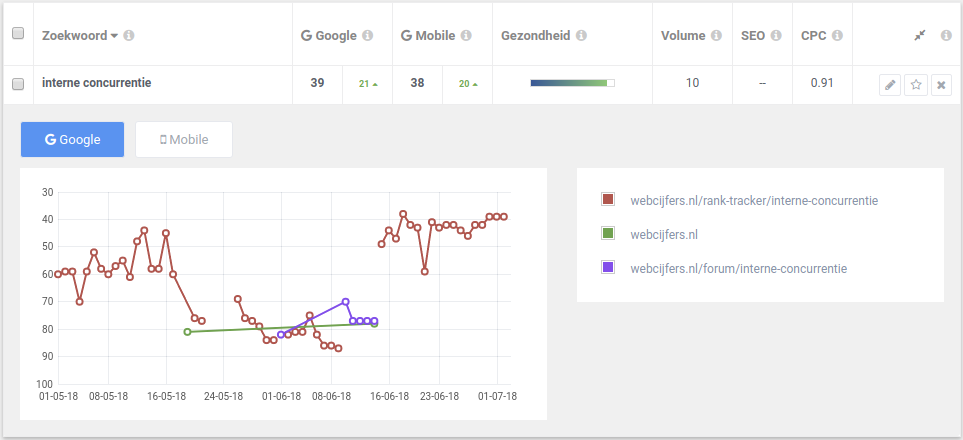 Solving internal competition
Once you see which pages rank on this keyword you can easily make a choice. Choose the page that you want to show for this keyword. Then you have a choice:
Make a 301 redirect from the redundant page to the relevant page.
Check if the structure of the site could be different. For example, place the redundant page 'behind' the correct page.
Rewrite (parts of) the redundant page so that it becomes more relevant for another search.