IPM + Measure your social media success
As a marketer you understand how important engagement is. What is a good engadgement for a website? Some sites have a handful of followers, others many thousands. IPM or IPM + has been developed to solve this problem. IPM stands for Interactions Per Mille, or the number of interactions per thousand fans. By dividing the number of interactions by the number of fans you get a nice benchmark for comparing posts. Both within 1 site and between 2 sites.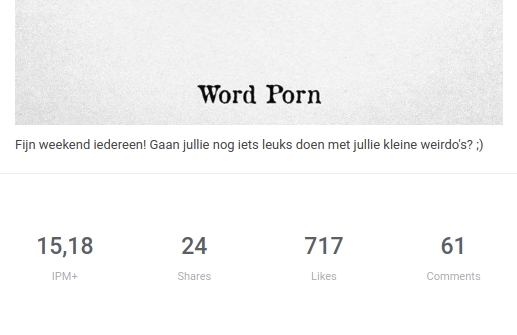 IPM and IPM plus
IPM + is an extension of the existing IPM. IPM + takes into account the number of shares, the number of likes and the number of responses of a message, while IPM only includes the number of likes and responses. Why would you think this difference ..? That is because developers have not always had access to the number of share statistics.
How to you calculate IPM plus?
You can calculate IPM + in a number of different ways. The idea is the same everywhere, but depending on what you want to compare, the effect does not differ slightly.
Comparing posts
IPM + is great for breaking how well a post is doing. Add up the shares, likes and reactions, divide that by the number of page fans and multiply that time 1000 (to get a nice readable number). So the formula is (shares + likes + comments) / page fans.
Comparing periods
Do you want to know if you have had more success on Facebook in a certain period? Then use the following formula. Add up all the shares, likes and responses of all posts in a period, divide that by the number of posts, then divide that by the number of page fans. Compare that with another period. Please note that the number of fans is not necessarily the same in both periods. The formula for this is ∑ ((shares + likes + comments) /) number of posts / page fans
Comparing different accounts
Do you want to know if your competitor is doing better or worse than you but you have a different number of followers. Then use the same formula for comparing periods. You can compare the outcome of your page with that of your competitor. So ∑ ((shares + likes + comments) /) number of posts / page fans
What does an IPM score mean?
An IPM score tells you how much interaction there is with your message. A message that reaches a lot of people but that nobody does anything with is actually not very successful. With social media it is much more important what people do with your mail, the engagent! An IPM score therefore tells you how successful your message is. An IPM score of 4 is generally seen as a good score. If you score lower than a 4 then it is time to review your social media strategy.
How to you proceed with IPM
Do you have a high IPM score, well, but don't sit back because you can recalculate an IPM score every month (or week, or even year). Use the IPM score to determine which posts, and which types of posts work well with your target group. If you find posts that consistently achieve a high IPM score, then you have the right chord. Experiment further and try to keep your IPM high across the board. That is the start of a successful social media campaign.