What are the MarketingTracer SEO alerts?
What are the MarketingTracer SEO alerts? Very easy. Even before problems arise, the SEO monitor detects deviations on your client's websites. Titles or content deleted? Missing meta tags, untraceable pages and server errors? Is something important going wrong? We will immediately send you an alert.
Intelligent SEO alerts whenever you want them
Thanks to MarketingTracer's intelligent SEO Alerts, you will be the first to know about changes. When we find a problem? Then we will send a notification!
---
Titles disappear, meta descriptions are adjusted without your knowledge or pages are suddenly no longer indexable. It occurs regularly. Often you will not find out that quickly and if you find out, your position will have dropped considerably.
It is therefore essential that you know as soon as possible when a problem with an important page arises.
With MarketingTracer SEO alerts you will be the first to know. We warn you when an SEO problem arises on your site or the site of your customer. This way you can solve the issue before it becomes a problem in Google.
Adjust the SEO alerts to your taste. Choose when an alarm should be sent and to whom. This way you ensure that only important SEO alerts come in and also to the right person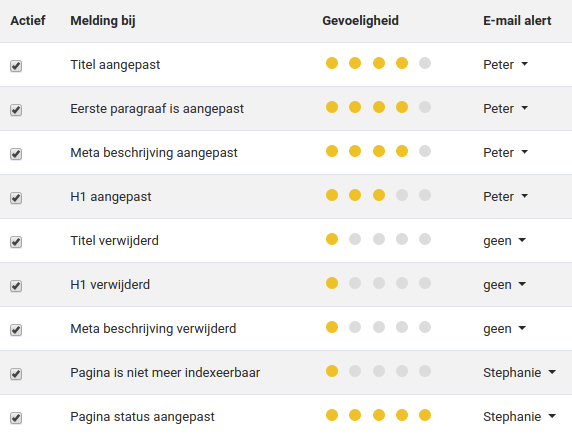 Choose when and how you receive your SEO Alerts!
You don't want to be interrupted for every little thing. So choose the notifications you want to receive and nothing more.
---
SEO Alerts should work for you, not against you. That is why you can choose how you receive an alert. Via the app itself, by a mobile notification, desktop notification or an email.
Then choose which SEO notifications you want to receive. With MarketingTracer you can turn on and off all types of notifications and also choose whether you want to receive SEO alerts for all pages or only the most important pages. Or everything in between of course.
Determine how often you want to receive notifications. Do you want to receive all notifications, maximum 1 per day or just once until we have seen you on the site again?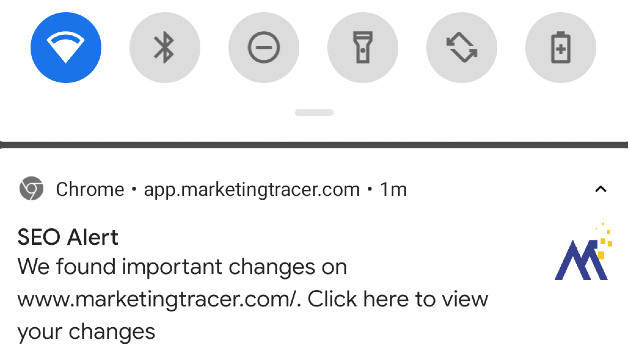 Smart crawling ensures faster Alerts
The powerful SEO Monitor monitors your site 24 hours a day and quickly zooms in when there are problems. When we find an issue that matters ... only then will you receive an alert.
---
MarketingTracer cleverly crawls your pages. First we learn by following many different ranking signals which pages are essential, which are important and which pages are less important.
Our alert systems quickly adapts to these page signals. We keep an eye on your important pages so that you can receive an alert from us before search engines can detect the error.
Does that mean we are ignoring other pages? No of course not! We still continue to crawl and analyse those pages as well. Would you also like to receive alerts for changes on less important pages? No problem, just change the sensitivity with 1 click.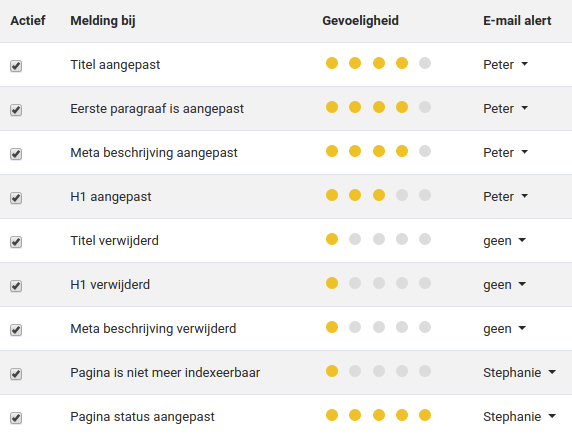 Why do you need SEO alerts?
Most companies do not monitor their website 24 hours a day. Certainly not when it concerns underlying pages. They expect that because the site has been properly set up once, the site will continue to run well. Unfortunately that is seldom the case. Google is changing its algorithms, several writers are making changes to country pages. The website responds slowly outside opening hours, plugins make sudden changes to websites. You name it, we see it passing by every day. When something changes to your website, it can have major consequences for Google. That is why it is advisable to have a good monitoring service behind your website.
How often do you send SEO alerts?
That of course depends, our servers monitor your site 24 hours a day. We check important pages much more often than less important pages. So if someone has accidentally marked the entire site as non-indexable, you will receive several notifications about the non-indexability of important pages within a short period of time.
We scan other web pages that have less impact on your SEO and Google position less often. If the title is accidentally deleted there, it may take longer before we send an alert.
Can I also send white label SEO alerts to my customers?
Jazeker, daar is ons systeem voor ontworpen. Als je meerdere klanten hebt kun je een gratis upgrade krijgen naar een white label account. Daar kun je zelf de lay-out, ontvangers en afzender van de meldingen aanpassen. Je kunt zelf, als white label administrator, beslissen of je de alerts ook naar jouw klanten wilt versturen of dat je deze alleen intern gebruikt.
What do you mean by 'intelligent' alerts?
Our system always searches for the pages with the greatest Google impact. What has changed on a page? Then we know you're working on that. We will keep a closer eye on these pages in the coming period than on pages that have not been changed for ages.
We also regularly run a 'control round'. Then we also take a look at the places where you may not have checked yourself for a while. This way we ensure maximum efficiency so that we pick up issues as quickly as possible.
How do I turn on SEO alerts?

SEO alerts are enabled by default on for the most important pages as soon as you add a site. However, it is useful to go to the SEO alert setting page. There you can set exactly for which type of problems you should report and how sensitive our system should be. The more sensitive the system is, the faster you will receive a notification.
You can also set there per 'type of SEO' error to whom a message will be sent. For example, you can send notifications about the content of the page to your copywriter and technical notifications to someone else. This way you ensure that you never get too many notifications and the right person is always quickly informed.
" Marketingtracer helped us achieving our organic KPI's last year and at the moment we're outperforming at our 2019 KPI's. Innovations on their side are very usefull and their support is very practical with feedback. Thanks for our partnership! "
Rick - Mobilitybooker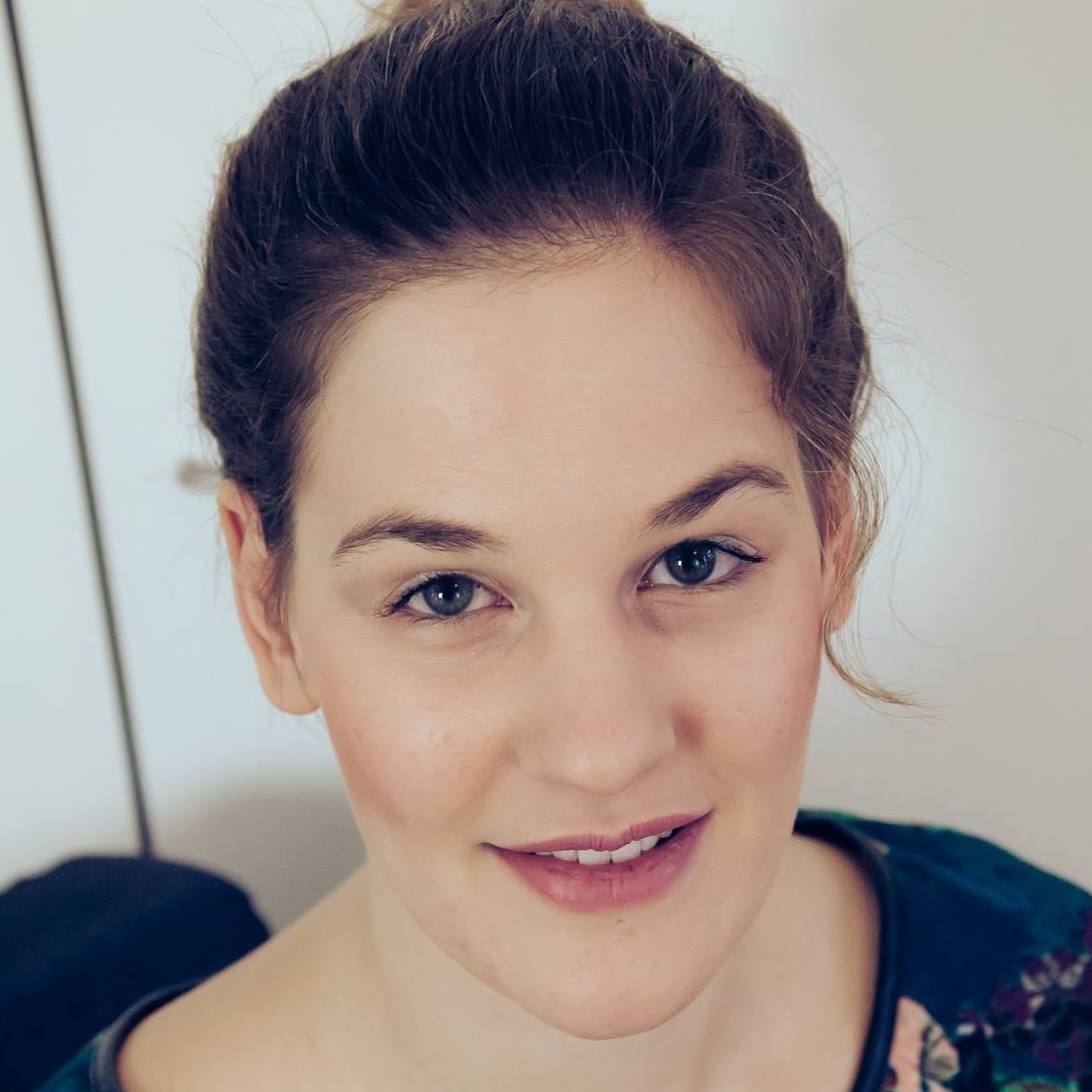 " I definitely recommend using MarketingTracer. They are friendly, have innovative tools and good support. Everything we need for organic growth is found in MarketingTracer "
Jackelien - iFound

Thanks to MarketinTracer we achieve over 300% average organic growth for our customers in the first 3 months. Awesome tools and great support! Give these tools a try!
Michael - SEO Factory
Recommended by leading Marketing Agencies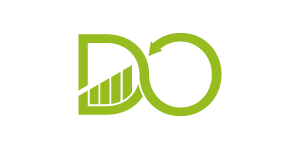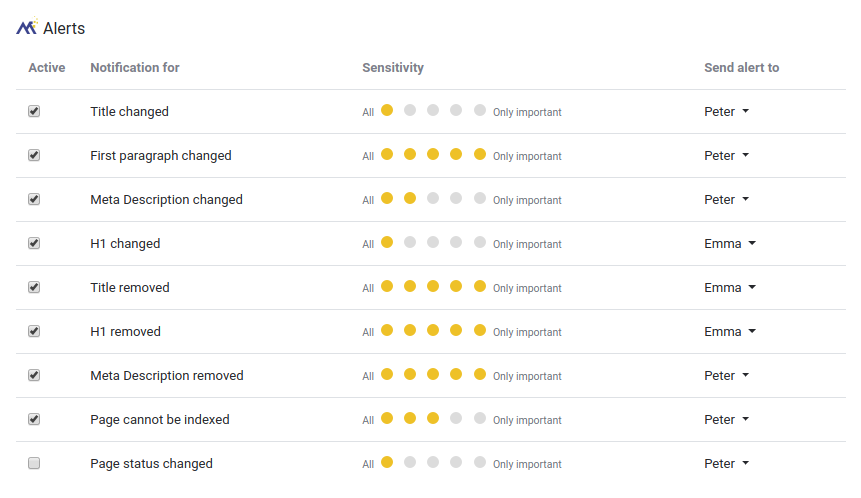 SEO Alerts are a great way to prevent problems on a website. The Dashboard continuously crawls your page. The moment we encounter a problem we can notify you by sending an SEO alert.
For each category you can choose to whom you want to send SEO alerts so that the alert always arrives at the right person.
For each category you can also adjust the sensitivity of an alert. You may choose to revieve an notification only if this problem occurs on a very important page such as the home page, on all pages or somewhere in between.
Finally, you can of course also switch the SEO alerts on and off per category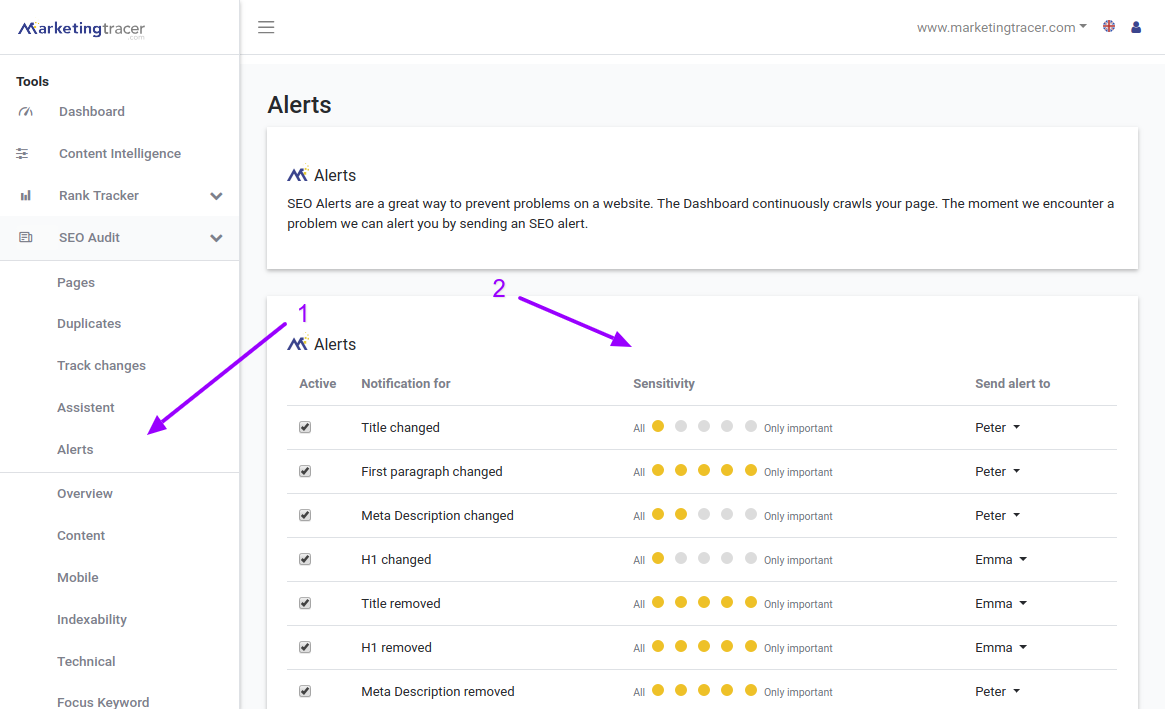 SEO alerts are enabled default so that 'average important' notifications are sent to the site owner. Of course you can adjust this.
Navigate via the 'SEO Audit' to 'Alerts'. Here you get a clear overview of all available notifications and you can choose to whom they should be sent.
3.
Change alert frequency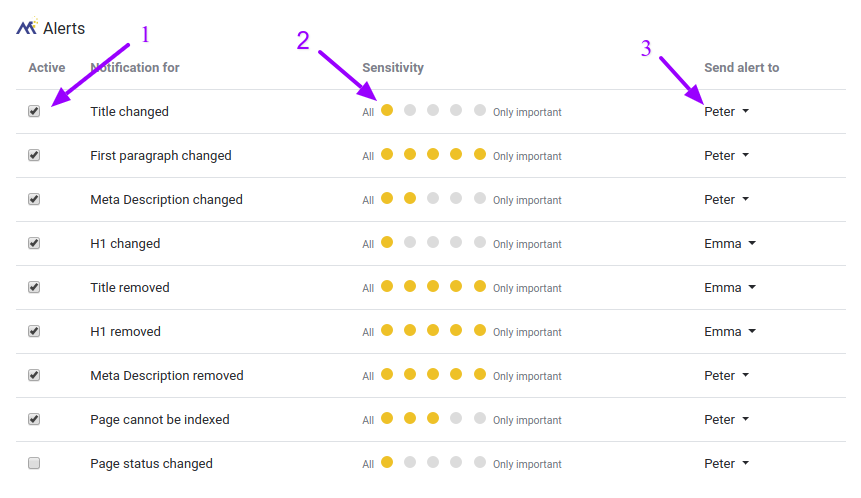 Je kunt de ontvanger en de gevoeligheid van de SEO alerts aanpassen. Je kunt de SEO alerts ook per onderdeel aan en uit zetten
Enable and disable alerts
Set sensitivity
In the middle, under the heading 'sensitivity' you can determine for which pages an SEO alerts should be sent. The most insensitive side is on the left. The system makes no difference at the moment what kind of page is being crawled, an alert will always be sent if an error is found.
On the right, the system is the most sensitive. Only on the most important pages does the system send an SEO alert. Whether a page is important for a site is determined by the number of internal links. A page with more internal links is more important than a page with fewer internal links.
Set up receiver
Sometimes it is useful to send different alerts to different people. For example, technical alerts can be sent to the webmaster and errors in the content can be sent to the content team. Every person who has access to the dashboard appears in the drop-down under 'Send alert to' and can be chosen as the recipient of an alert.