What does MarketingTracer SEO monitoring do?
What does the MarketingTracer SEO monitor do? What does it not do, you better ask yourself. Even before problems arise, the SEO monitor detects deviations on your client's websites. Duplicate titles or content? Missing meta tags, untraceable images and server errors?

Our 24/7 live monitor picks them all out.
Stronger pages thanks to the SEO monitor
MarketingTracer keeps track of all changes on your website for you. We look at more than 50 on-page SEO factors and server errors . This way you can see at a glance what has been changed on your website and you can quickly make adjustments when the changes do not appear to be improvements.
Why? Because the website of you or your customers is just as strong as the weakest page. Rickety pages with lean content can lower the performance of an entire site. And a mistake is easily made. That is why it is important that the quality of your web pages remains as optimal as possible.
That is why the SEO monitor from MarketingTracer automatically keeps an eye on you. This way you have made changes and errors out of date. Is there something wrong? Then we will let you know immediately so that you can tackle the problem quickly.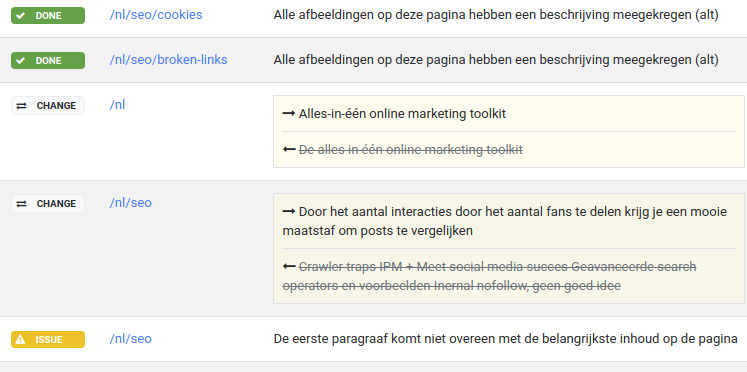 SEO monitoring for better site performance
Google is happy with a good, fast and valuable site. But is something going wrong? Then that can just have an impact on your positions. Make sure that this does not happen to you! This does SEO monitoring of Marketing Tracer for your website!
Why is SEO monitoring necessary?
It often happens that a team member, developer or an update of a plugin pages or adjusts entire sites. Often you will not find out yourself. With SEO monitoring you can see this almost immediately. Then you would like to know that something has changed, what the impact is and what exactly has changed. Thanks to the SEO monitor you can easily find this and quickly respond to changes that you have not agreed.
How often are pages checked?
SEO monitoring keeps an eye on your site 24 hours a day! We visit your page as often as possible, but not so often that your server is bothered by it. We keep a close eye on that! Exactly how often we visit and check your website depends on it. We check important pages much more often than less important pages. We scan other web pages that have less impact on your SEO and Google position less often but still regularly enough to detect errors quickly!
How smart is SEO monitoring?
Our system always searches for the pages with the greatest Google impact. What has changed on a page? Then we know you're working on that. We will keep a closer eye on these pages in the coming period than on pages that have not been changed for ages.
We also regularly run a 'control round'. Then we also take a look at the places where you may not have checked yourself for a while. This way we ensure maximum efficiency so that we pick up issues as quickly as possible.
How do I enable SEO monitoring?
To activate SEO monitoring, you don't have to do anything after adding your site. MarketingTracer automatically crawls your pages from that moment. Do we see a change that can affect your performance in Google? Then we will save for you so that you can find it again as soon as you are looking for it.
What does the SEO monitor monitor?
Almost too many to mention. We scan everything that could cause a page not to be found properly. We track the changes on your page on more than 50 on-page SEO factors. We look for example at indexability, changes in content, mobile issues, technical issues such as SSL and references, Social media integrations, SERP presentation and focus keywords.