What does the MarketingTracer SEO Monitor do?
What does the MarketingTracer SEO Monitor do? What doesn't it do, you should ask yourself! SEO monitoring keeps a watchful eye of your website 24 hours a day. When we find an issue we will report it back to you before it becomes a problem.
Duplicate titles or content? Missing meta tags, untraceable images and server errors? Our 24/7 live monitor will find them all. Whether pages are added or removed, or even when changes are made within pages. We track it all for you!
150+ metrics
Monitor more than 150 on-page SEO issues

Discover trends
Find SEO trends and respond immediately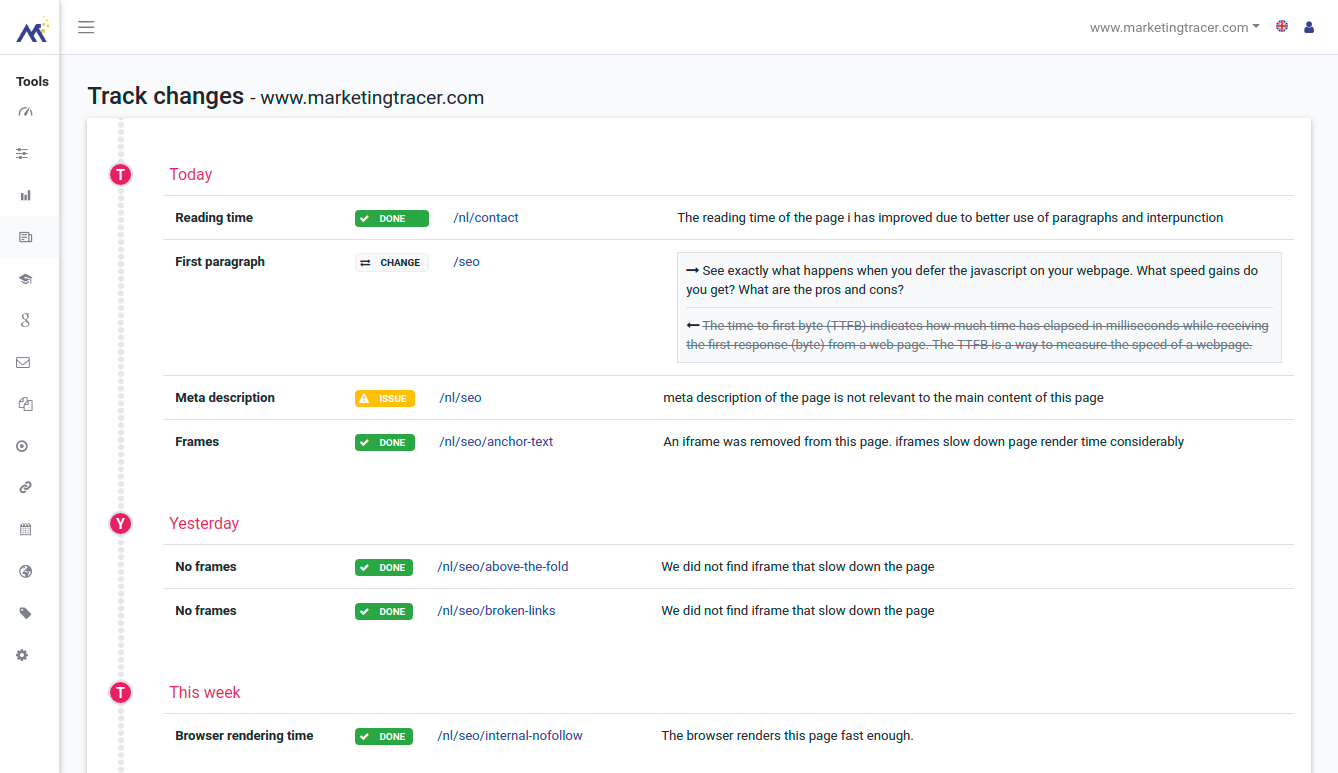 Smarter crawling
Immediately notification of breaking website changes

Tips and solutions
Smart context relevant solutions for solving SEO issues
SEO Monitoring Core Feature:

SEO Auditing & SEO Monitoring

Thanks to MarketingTracer's cast-iron SEO Audit features, we know whether a change really is an improvement.
---
The SEO Auditor checks your pages for more than 150 metrics to improve the Search engine performance of your page. But that is not enough, SEO Auditing is passive, the SEO monitor is not. The MarketingTracer SEO Monitor actively searches for changes.
When we find a change, we immediately check whether that change is an improvement or not. Why? Because the website of you or your customers is just as strong as the weakest page. Weak pages with thin content can degrade the performance of an entire site. And a mistake is easily made. That is why it is important that the quality of your web pages remains as optimal as possible.
The MarketingTracer SEO monitor automatically keeps an eye on all pages of your customers. When we find an issue that should be fixed we will let you know immediately, so that you can deal with the problem quickly.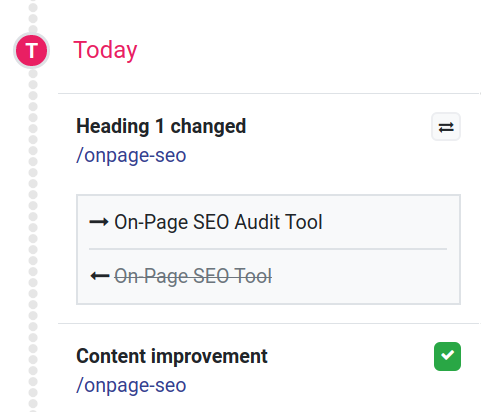 SEO Monitoring Core Feature:

Respond faster than search engines

You don't want to wait to find errors until search engines have indexed your page?
---
MarketingTracer crawls your pages faster than Google does. That is why we often find changes much earlier than Google. That gives you valuable time to intervene quickly if a change turns out not to be an improvement.
Google and visitors are happy with a good, fast and valuable website. But what happens when something going wrong? Then your website quickly becomes less friendly to a user.
This can also quickly impact your search results. So make sure it doesn't happen to you. Use the MarketingTracer SEO Monitor to monitor your site.
SEO Monitoring Core Feature:

Insights at a glance

Focus, filter and find all changes found by SEO monitoring. The way you want it.
---
MarketingTracer SEO Monitoring keeps track of all changes on a website for you. We check critical performance for over 150 SEO factors on your website and other aspects that can mess up your SEO such as server errors, slow pages, indexability issues and sudden changes .
On your SEO monitoring dashboard you can view all changes, per page or per website and quickly make adjustments when the changes do not seem to be improvements.
With our advanced search filters you can search all changes found by SEO Monitoring at lightning speed and in order you want. You can, for example, focus on just 1 page or vier all on-page changes of the same type for your entre website.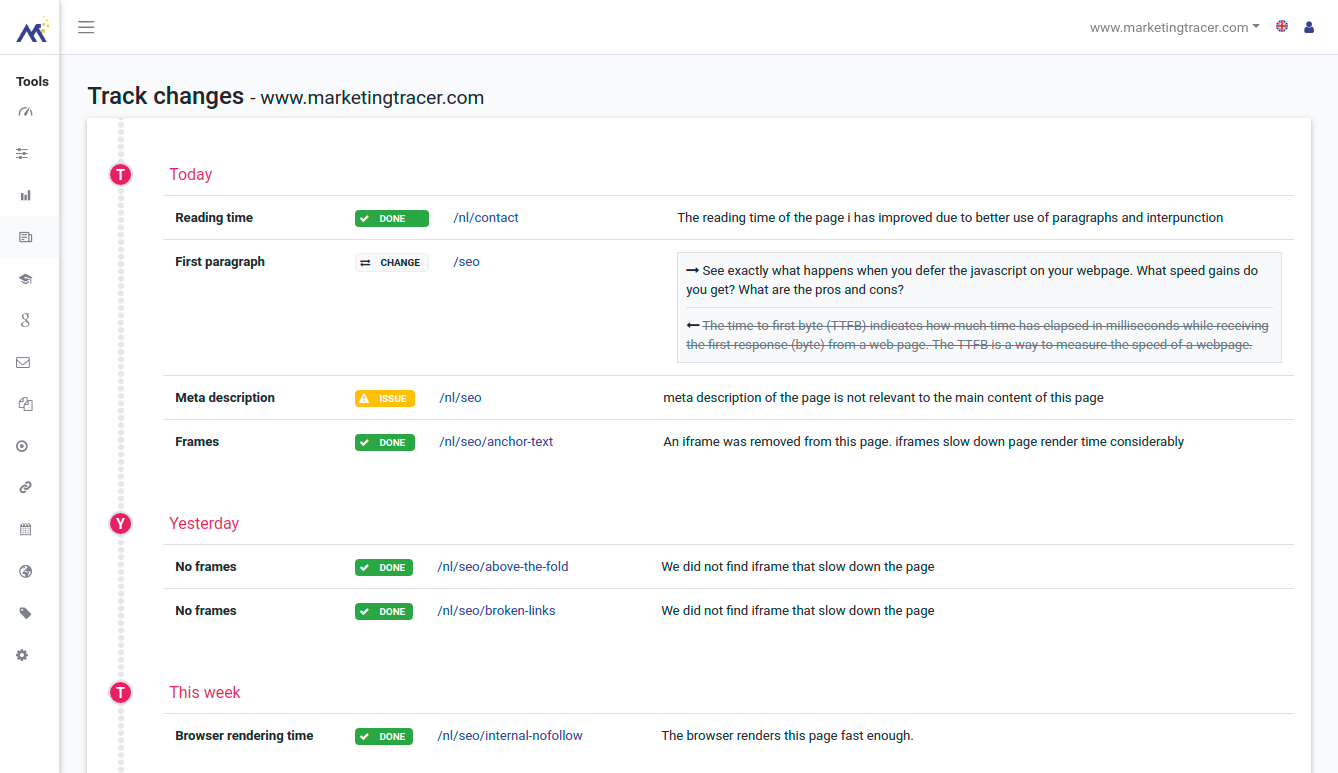 SEO Monitoring Core Feature:

Discover trends in SEO changes

Make better use of the data you have, discover trends in SEO changes and take advantage of them.
---
The MarketingTracer SEO monitor does not only keep an eye on your SEO. We give you more insight and a better overview so that you can make the right decisions based on the right data.
Discover and track which issues have been resolved, when problems have started and when parts of a page have changed per day, per page or per site.
Find out which pages change the most, what these changes were exactly and what the impact has been on the overall SEO performance of the site.
MarketingTracer lets you do even more with your data. Compare your changes to your analytics or search console timeline to find out the exact impact of changes on your website.
Veranderingen per pagina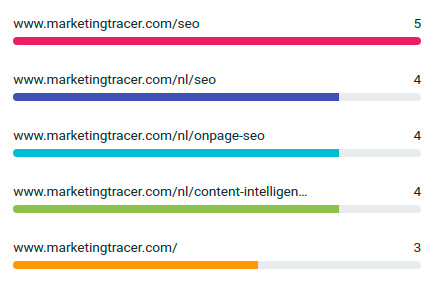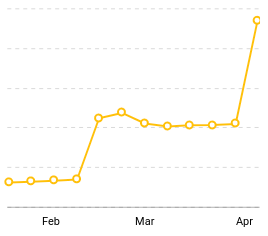 " Marketingtracer helped us achieving our organic KPI's last year and at the moment we're outperforming at our 2019 KPI's. Innovations on their side are very usefull and their support is very practical with feedback. Thanks for our partnership! "
Rick - Mobilitybooker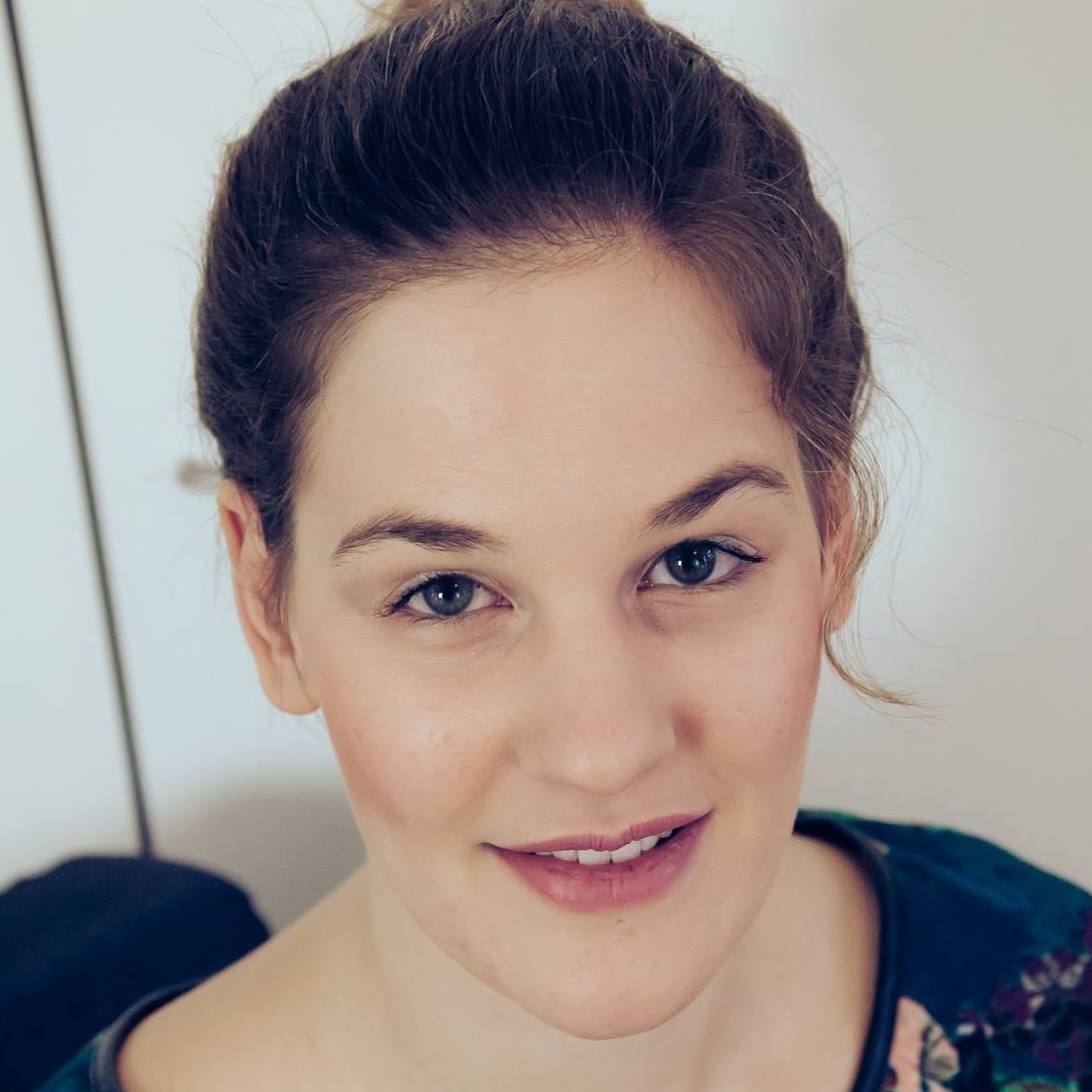 " I definitely recommend using MarketingTracer. They are friendly, have innovative tools and good support. Everything we need for organic growth is found in MarketingTracer "
Jackelien - iFound

Thanks to MarketinTracer we achieve over 300% average organic growth for our customers in the first 3 months. Awesome tools and great support! Give these tools a try!
Michael - SEO Factory
Recommended by leading Marketing Agencies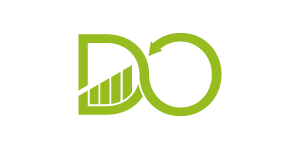 1.
Why is SEO monitoring necessary?
Optimizing a site takes a lot of time and effort. The content of the site must be made search engine friendly. Attractive content must be written and backlinks must be found. And the technology behind the site must be correct. That is why SEO is a process that can take a while to get results. It takes a lot of time and especially specialist knowledge before you are where you want to be. But once the process is successful, you reap the benefits of SEO, you achieve good keyword positions in Google and your customers are satisfied.
And then suddenly something goes wrong .... a team member, developer or an update of a plug-in adjusts a number or perhaps all pages of your website. You often do not find out for yourself immediately. With the SEO monitoring tool you need a specialist and you can see this almost immediately. Then you want to know immediately that something has changed, what the impact is and what exactly has changed. Thanks to the SEO monitor you can easily find this and respond quickly to changes that you have not agreed.
2.
How often are pages checked?
SEO monitoring keeps an eye on your website 24 hours a day! We visit your page as often as possible, but not so often that your server is affected. We are keeping a close eye on this! How often we visit your website and check pages for errors depends on it. We check important pages much more often than less important pages. We scan other web pages that have less impact on your SEO and Google position less often but still regularly enough to quickly detect errors. In addition, we run 'control laps' throughout the site!
3.
How smart is SEO monitoring?
Our system always searches for the pages with the greatest Google impact. What has changed on a page? Then we know you're working on that. We will keep a closer eye on these pages in the coming period than on pages that have not been changed for ages. We also regularly run a 'control round'. Then we also take a look at the places where you may not have checked yourself for a while. This way we ensure maximum efficiency so that we pick up issues as quickly as possible.
4.
How do I enable SEO monitoring?
To activate SEO monitoring, you don't have to do anything after adding your site. You do not have to adjust any settings, we will automatically keep this for you! MarketingTracer automatically crawls your pages from that moment. Do we see a change that can affect your findability in Google? Then we will save for you so that you can find it again as soon as you are looking for
5.
What does the SEO monitor monitor?
SEO monitoring keeps almost too many to mention. We scan everything that prevents a page from being found. We track the changes on your page for more than 50 SEO factors on the page. For example, we look at indexability, changes in content, mobile problems, technical problems such as SSL and referrals, integration of social media, SERP presentation and focus keywords.
Titles: we keep track of when the title of a page is adjusted, when it disappears, whether the title has the correct length and whether the title is relevant to the content of the page.
Meta description: we check whether the meta description has been entered, whether it is relevant and whether the length is correct.
Readability: we look at the number of words, the reading time and the readability of the content.
Images: are the images loaded correctly? Are they the right size and as descriptions.
Speed: the server responds quickly enough and the page is quickly built in a browser.
Social media: is your open graph and twitter card data set up correctly?
Indexability: changes to robotx.tx that prevent parts of your site from being indexed, meta tags and cannonicals.
HTML: if you use the right headings, the language of the page is set in the right order.
Mobile: is your page mobile friendly, load a page quickly on mobile, are there too small or too large elements?
Internal links: are all internal links correct, which pages link to a page, which link anchors are used and do all internal links pass through
6.
What is the SEO monitor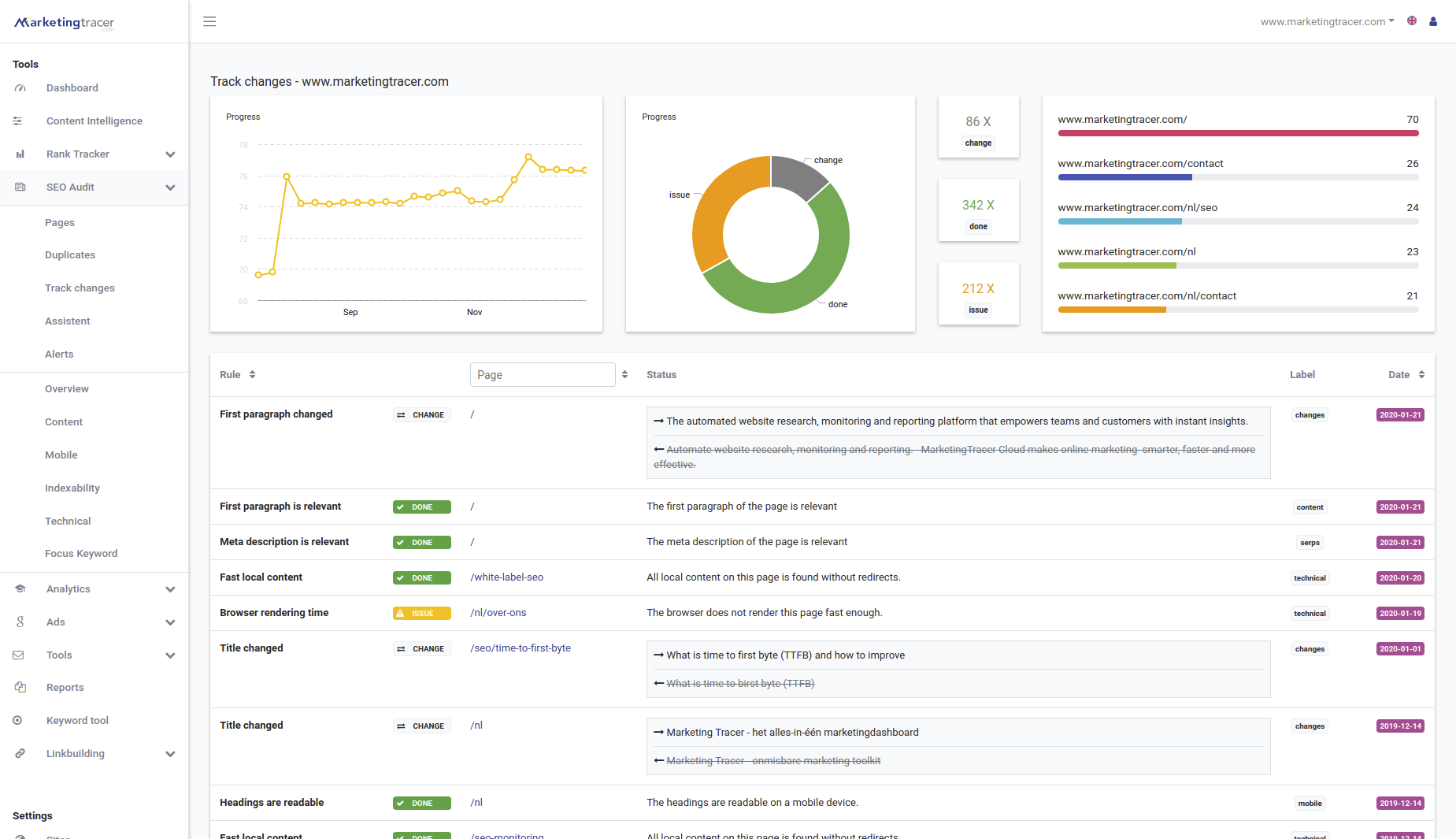 The SEO monitor keeps an eye on your site 24 hours a day and reports all changes it encounters in a handy overview. We keep an eye on your site on more than 50 important points. Has anything changed? Then we will keep that for you!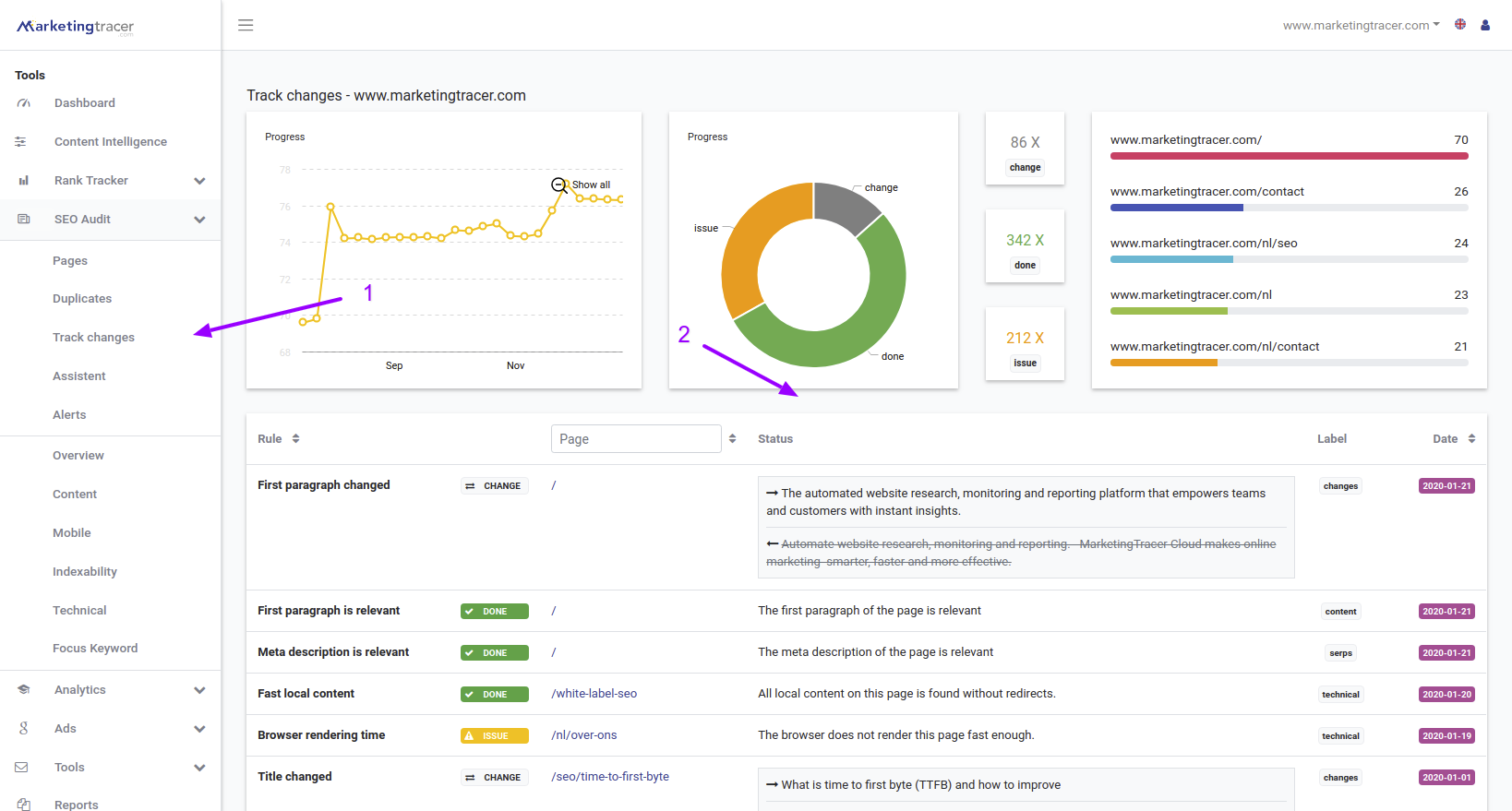 To view all changes, navigate via 'SEO audit' to 'Track Changes'. There you will get an overview of all the changes that we have encountered.
>SEO Changes in 1 overview
The graphs at the top of the page quickly show the total SEO score, the type of changes, the number of changes per type and the pages with the most changes. 'Errors' get an orange color, improvements a green color and changes a neutral gray color.
Filter and search SEO changes
In the overview you can easily filter on page, SEO line and date. This way you can easily find all changes in a specified period, all changes per page or all changes of a certain type. For example a change in the title.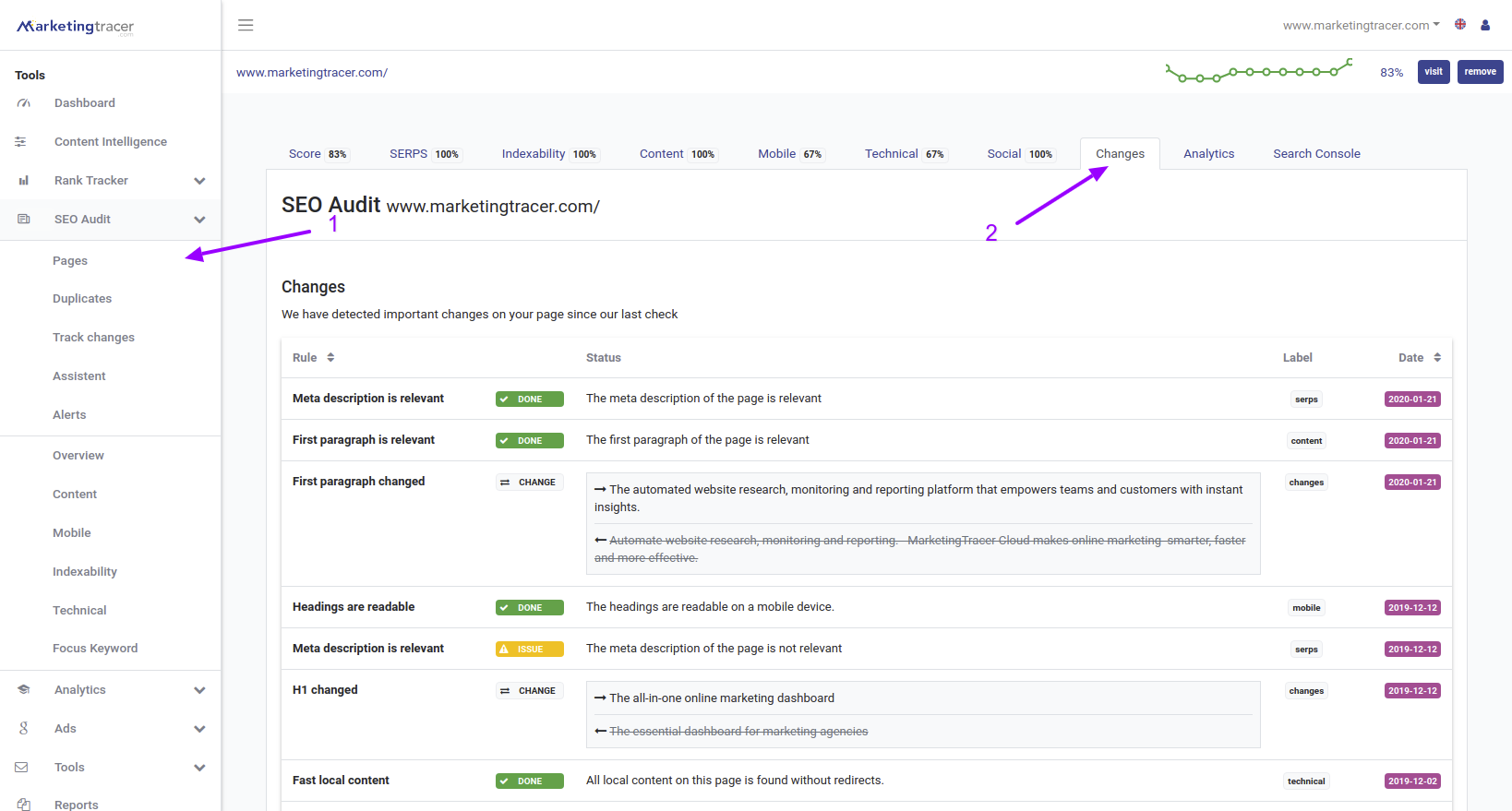 To view all changes on page level, navigate to 'Pages' via 'SEO audit'. Click on a page to request the SEO audit of this page. Then click on the 'changes' tab. There you will get an overview of all the changes that we have encountered for this page.
Tip: combine SEO changes with Analytics and Search Console data
Compare page changes to the Analytics and Search console data. Especially when you have notified via Search console that a page has changed, you know exactly when Google has picked it up. Pretty soon after the change you can view the new results in Google from this page. For example, look at the impact on the CTR, your Google positions and the number of page views per visitor.