Made for Agencies
MarketingTracer was developed in collaboration with Agencies. You've probably seen our white label tool before without even knowing it, as more than half of the top 50 EMERCE companies use Marketing Tracer. We love seeing our white label customers start small and quickly grow into the most successful Agencies all across the world
Custom lay-out
Decorate the white label dashboard in your own house style

Custom domain
Clients log in at your own white-label domain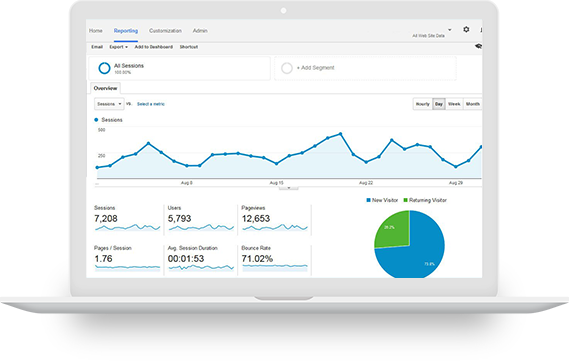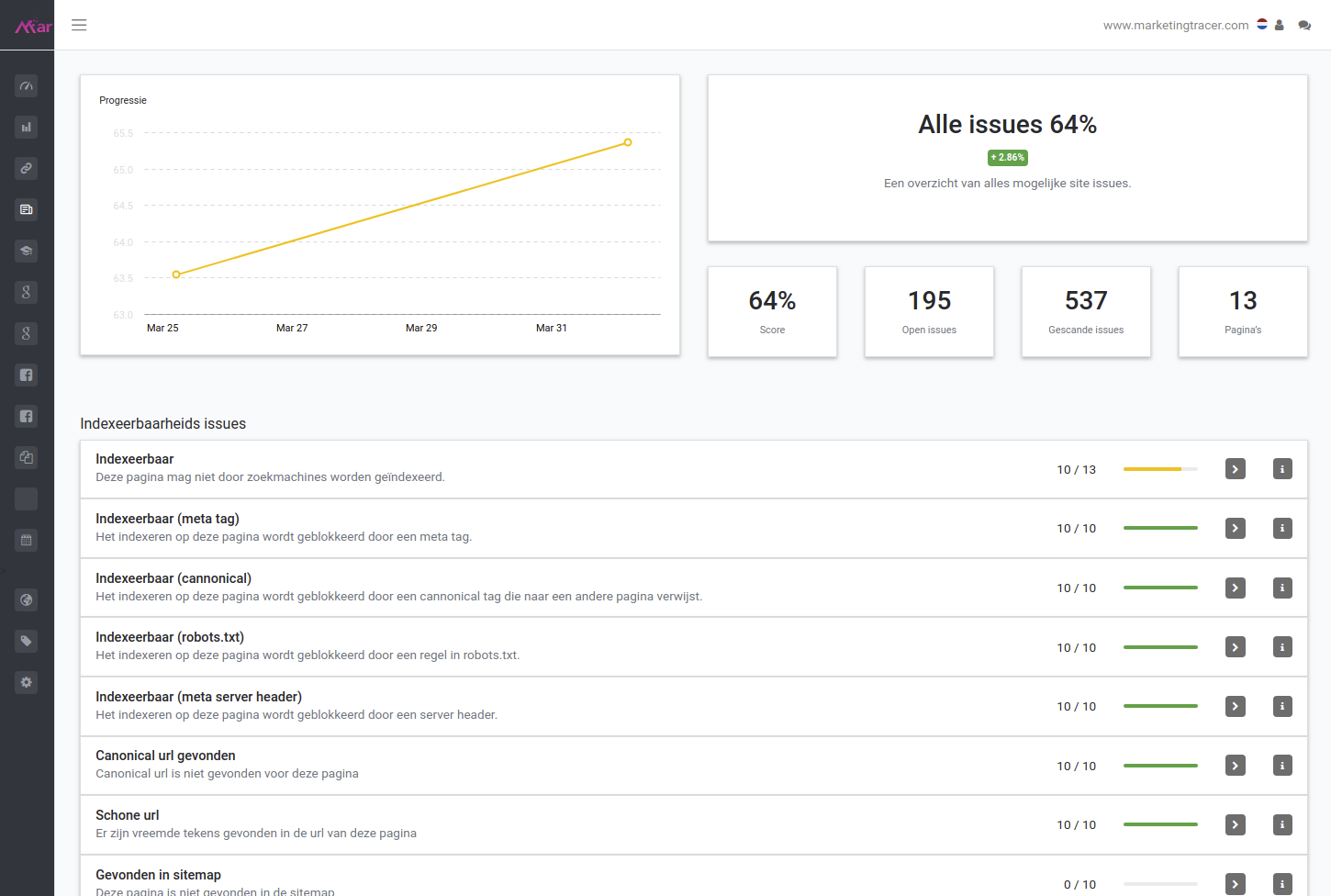 Automatic reporting
Send automatic customizable reports every month

Full control
You decide which tools your customers can use
White label Dashboard:

Custom URL, Branding & Provisioning

Impress your clients with your own branded environment for online marketing, reporting and progress registration.
---
White label means that the Marketing Tracer SEO tools are offered 100% under your brand name. Choose your own domain and customize the dashboard any way you want.
Customize the Dashboard with our handy quick editor where you can quickly change all settings, logos and color schemes. Deep changes are also possible via our CSS and JavaScript interface, which gives you access to every little detail of the dashboar. Adjust everthing to your own wishes.
With our provision framework you can create your own account and distribute custom roles. You decide what each role can see and do in your own white label environment.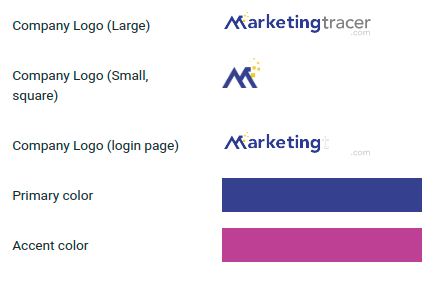 White label Dashboard:

Explanation, Documentation & Training

The White label SEO Dashboard should work for you. We will therefore not let you guess how it works. We help you with the clearest explanation, documentation and training.
---
Employees and customers must be able to get started as quickly as possible and should need as little time as possible to settle in.
At MarketingTracer we understand thit and that is why we are the only SEO tool to provide free online training for all employees on how to use the Dashboard. And will new employees be added over time? No problem, we will simply repeat the training.
Of course the dashboard is extensively documented. You will find to-the-point help tool-tips everywhere on and on the extensive help page you will find step-by-step tutorials about all the possibilities of the MarketingTracer Dashboard.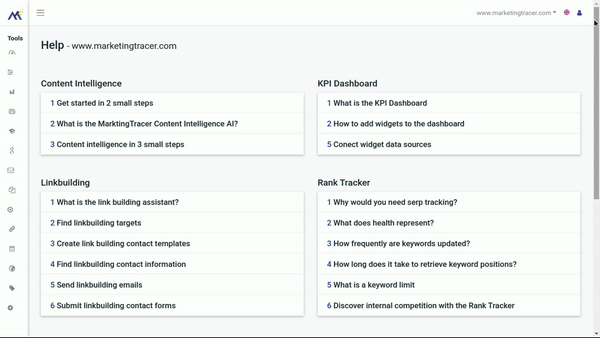 White label Dashboard:

Templates & Automation

Setup the dashboard down to the last detail and then save your settings as a template for quick reuse for your next customer
---
Every Agency is different and every customer has different wishes. We understand that at MarketingTracer and that is why you can personalize the Dashboard down to the last detail.
Choose the KPIs that are important to your customers and build your own custom white label dashboard. Then save the dashboard as a template.
At the end of the month automatically create reports in your own Corporate Identity and automatically send them to your customers. Think about how much time this will save your Agency.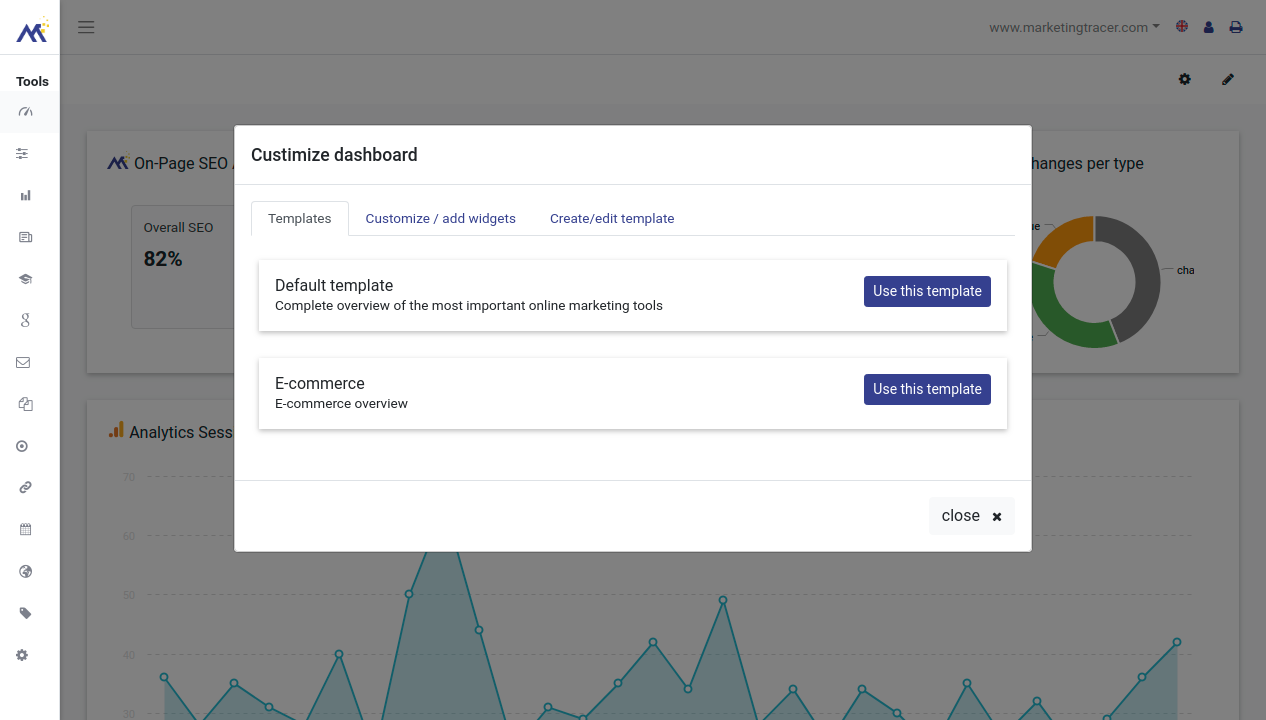 White label Dashboard:

Get started quickly

Would you like a free trial of the White label dashboard? Great we will help you get started.
---
Please contact us first, we always check who we work with. After all, quality still makes the difference! We do not allow spammers nor black hat agencies to misuse our tools.
02.

We will immediately setup the White label Dashboard
We will immediately start working for you. We give you admin access to your own environment. Secure your enviroment with an SSL certificate and make sure everything is in order.
03.

Apply you corporate identity
Next, personalize the dashboard. Add your own logo and apply your brand colors. Further
customization
is also possible because you will have full access to the JS and CSS editor with which you can completely adjust all layout. At last personalize your welcome e-mail and the dashboard is complete.
04.

Add team and client access
As soon as your white label Dashboard is ready add team members and clients.
First add your team members and add them to the admin or member group.
Then you add your customers. Add your customers to the member of guest group
.
Congratulations, you are now the proud owner of your own white label SEO dashboard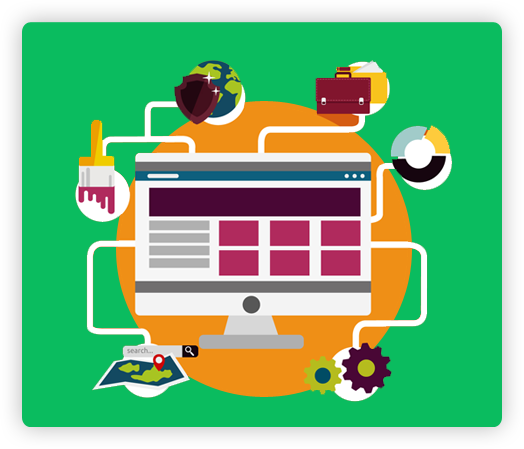 White label Assist
There are no extra costs associated with a white label version of the dashboard. We see white label as an extra, free service. We are happy to help you set up and set up the white label tool.
After creating a white label account, we are just there for you and we ensure that the White Label dashboard is set up exactly to your wishes.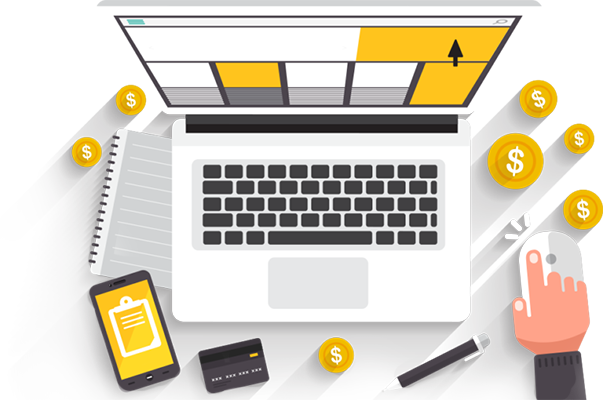 1.
Is the white label dashboard only available for agencies?
No, in practice we see that agencies in particular use the white label dashboard because this is of course the perfect way to impress customers. But anyone who would like to use the dashboard under their own white label can in principle do this.
For example, there are many larger companies that still want to create white label management reports or companies with multiple websites that want to use 1 uniform tool. That is no problem, contact us and you can use the dashboard white label within 10 minutes.
2.
What is the white label dashboard?
The white label dashboard means that you can offer the MarketingTracer dashboard white label to your customers under your own name and domain.
With the white label dashboard you get:
Own logo on the login page and at the top of the dashboard
Your own color scheme to quickly adjust the look to your house style
Own chat module of your choice to speak to your customers quickly.
Access to your own CSS to further fine-tune the look and feel or your corporate identity
Customizable welcome email
Multiple administrators and team members
Enable and disable modules per user or role
Access to our white label API
Default country and language settings
Customizable reporting style and own cover page, header and footer
3.
What does the White Label Dashboard cost
The white label Dashboard is an extra service on top of the Dashboard itself. No extra costs are charged for 'creating a white label' for your Dashboard.
The white label dashboard is often cheaper than an individual account because of the discount you get when you purchase larger volumes.
4.
How do I transfer the white label dashboard to my own domain?
To transfer the White label dashboard to your own domain, you must make a referral to our dashboard via the DNS of your site. You do this by means of a CNAME record. Create a CNAME record of a subdomain of your site (for example, dashboard.yoursite.nl) and refer it to 'connect.marketingtracer.com.'. Note: the dot belongs behind it, which indicates that it is a domain and not a subdomain.
From there we will pick it up for you. We need to link your new domain and create an SSL certificate. So at this point contact us and tell us what domain you have picked. That will take 10 minutes after that you can get started!
5.
How do I ensure that mails to customers do not end up in spam folder?
Because the dashboard can be found on your own domain but continues to run on our server, you must give us permission to send e-mails in your name. You do this by editing the spf record and adding our spf record. Our spf record is '_spf.seoserver.nl'.
Your spf record will look like this: v = spf1 mx a include: _spf.seoserver.nl ~ all
Help setting the SPF record
We understand that not everyone adjusts the SPF record every day. That's why we just help for a while if you don't know exactly how this works. 1 of our technical guys can watch with you or check afterwards whether the settings are correct