The smart rank tracker at the most competitive price.
The most precise RankTracking focused on great quality search results at a low cost. We have the tools you need to support your search engine optimization campaign. Get more insights into the position of your customers, organize keywords into convenient groups and genrate branded white label reports.
Real and accurate results
Real browsers will retrieve the most reliable results for you.

Intelligent checks
The RankTracker provides intelligent information about the health of your positions.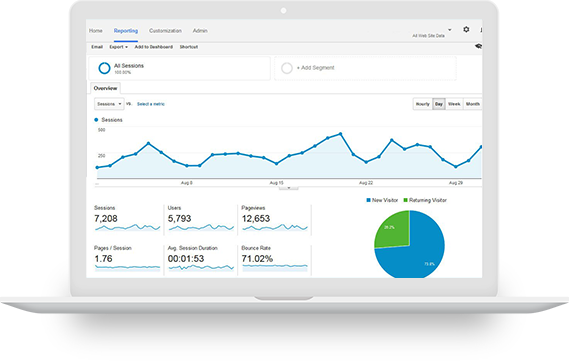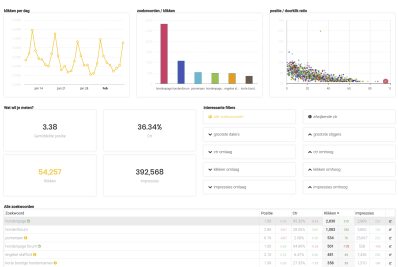 Local results
Measure and compare local search results in addition to Desktop and Mobile.

White label
Present the search results from your own branded white label environment, to your customers.
Insightful 100% accurate Rank Tracker
The rank tracker is the most efficient and advanced search engine tool available. Our advanced technology retrieves the positions of all keywords every day by using real browsers. These real browsers provide the most accurate position tracking available. Group and check the rankings of your keywords. Easily find falling rankings, rising rankings, and internal competition in Google's Mobile, Local and Desktop index.
Read more
Track keyword performance of your site and of your competitors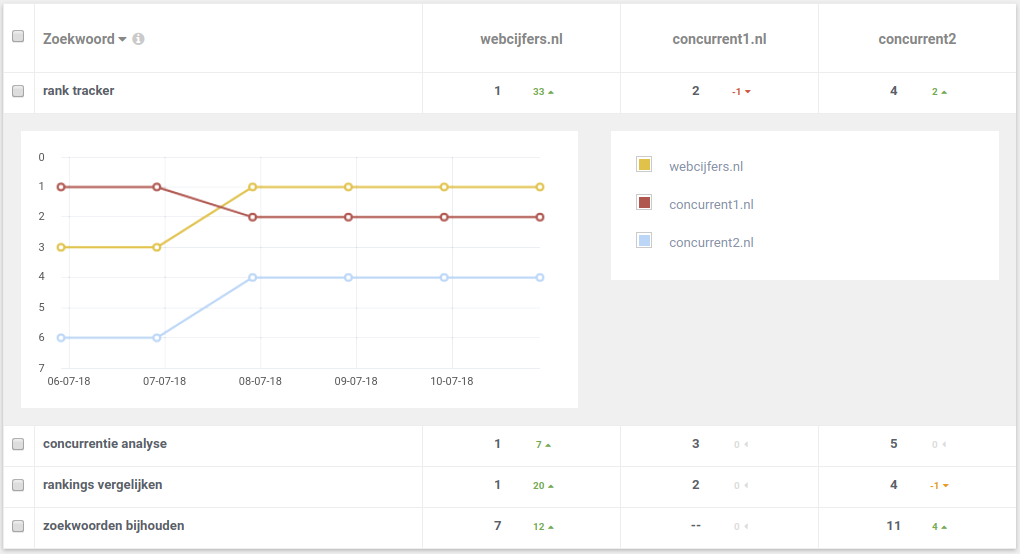 The rank tracker measures in detail how your site performs against your competitors on all search terms.
The rank tracker compares your positions on a daily basis, against the positions of your competitors. In 1 overview you can see on which keywords your competitors rank and whether they are rising or falling.
Read more
Discover internal competition with the Rank Tracker
Internal competition occurs when 2 or more pages rank on the same search term, which often results in lower positions.
Internal competition is double sin, an extra page ensures internal competition which results in low search positions. It is important to ensure that Google knows which page should be displayed with which search term. Fortunately, you can look it up quickly with the MarketingTracer rank tracker.
Read more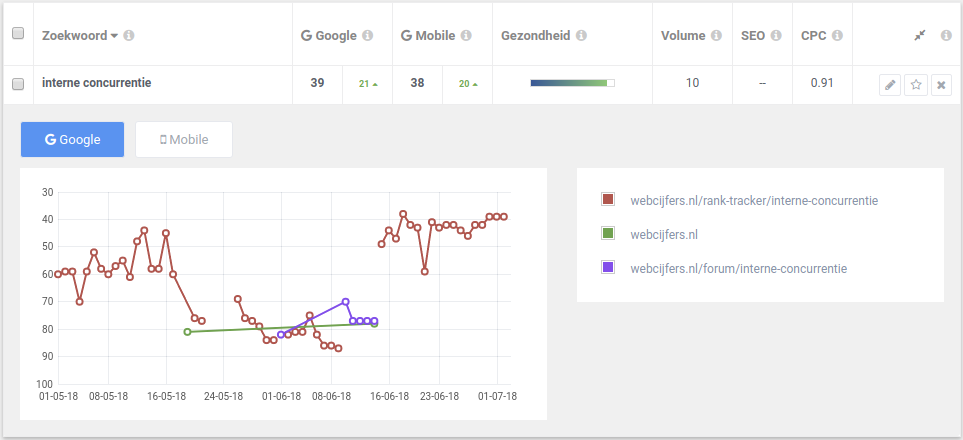 Compare our prices
The RankTracker is part of the complete package of SEO tools. However, the use of MarketingTracer is already cheaper if you only want to use a rank tracker. Why? We don't know either. Retrieving search results is not that expensive if you handle it efficiently. These are the prices of our rank tracker, and of our colleagues with based on 1000 keywords.
| | | | |
| --- | --- | --- | --- |
| | Price | Fair use policy | Intelligent alerts |
| MarketingTracer | €18.75 | Yes | Yes |
| RankTracker.com | $99.00 | No | No |
| seranking.com | €62.00 | No | No |
| www.accuranker.com | $79.00 | No | No |
| www.serpfox.com | $50.00 | No | No |
Branded, white label reports
Create fully brabded white label reports. Create an awesome report including competition analysis, a summary report or the visibility index. The choice is yours