Link building in a fraction of the time
In addition to being one of the best link building tools on the market, MarketingTracer offers its users an all-in-one digital marketing system to maximize your online marketing efforts
Easily find linkbuilding prospects based on obtained links from competitors, link pages in your industry or on relevant blog articles. Then start your drip mail campaign automatically for the maximum result. We automatically check the placed links for you.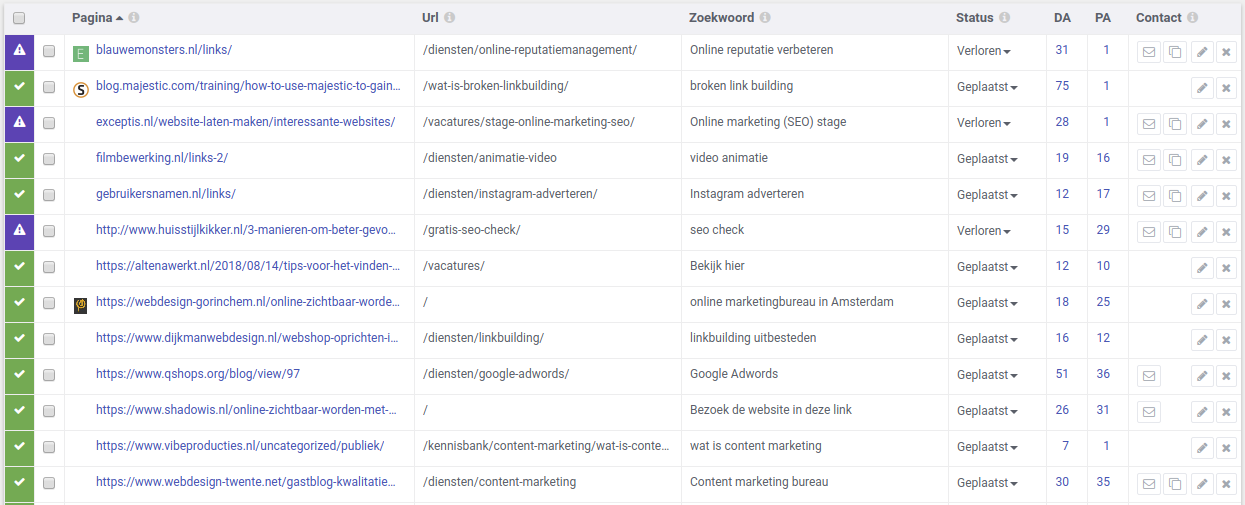 More link building prospects
We will find link building prospects for you
Linkbuilding auto-pilot
Automate link building with the link building auto-pilot
Automatische controle
The SEO Dashboard automatically checks the status of all links..
More and even better link building prospects
Automatically find the best link building partners for every type of link building

Finding good linkpartners is often a time-consuming task. MarketingTracer makes it very easy to find good link partners. We look for all your competitors' backlinks, influential blog articles or link pages in your industry.
More response with an automatic drip mail campaign
How much response do you get from your linkbuilding? With a personalized and automated drip mail campaign you can get up to a 70% response to your link building requests..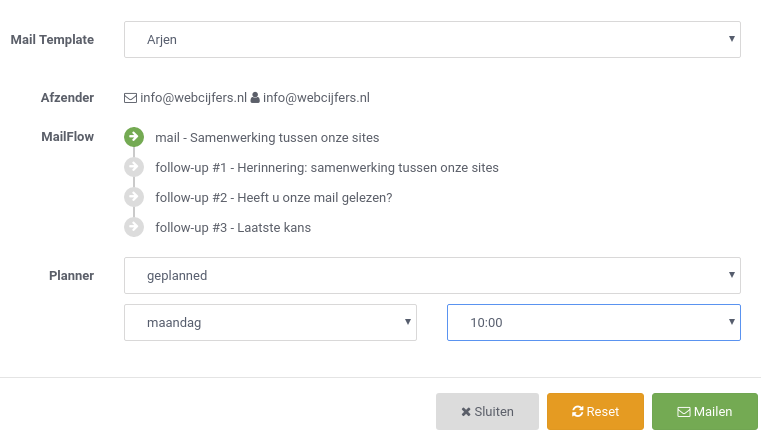 With the link building tool you can create a drip mail campaign as standard. You indicate when e-mails must be sent and we send them for you. Before we do that, we check the status of the linkbuilding application. This way you achieve an extremely high return on your link building.
Automatic check of all links
We automatically and periodically check the status of all placed links. .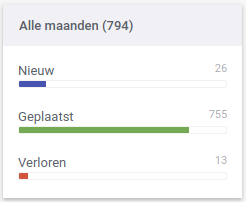 When you do not check your backlinks properly, you will easily lose your link profile. Webmasters remove links regularly and that is a shame for your link buildingcampaign. When we detect this with our link building tool you can send a reminder to the webmaster with 1 click on the button to put the link back online.
1.
What is the link building assistant?
The link building assistant is your virtual assistant that makes it easy for you to do link building. The link building assistant helps you with:
Search for link building partners through smarter queries
Import from link building partners
Finding contact information from your link building partner
Sending communication by e-mail
Filling in contact forms via the website of the link building partner
Automatically track the status of link building requests
The link building assistant is not a backlink tool that gives you an overview of all links that can be found on the internet. The link building assistant helps you find link building partners and makes link building easier and faster.
The link building assistant is not a backlink tool that gives you an overview of all links that can be found on the internet. The link building assistant helps you find link building partners and makes link building easier and faster
2.
Find linkbuilding targets
You can find link building targets in 3 different ways. Navigate to link building and click on 'import links'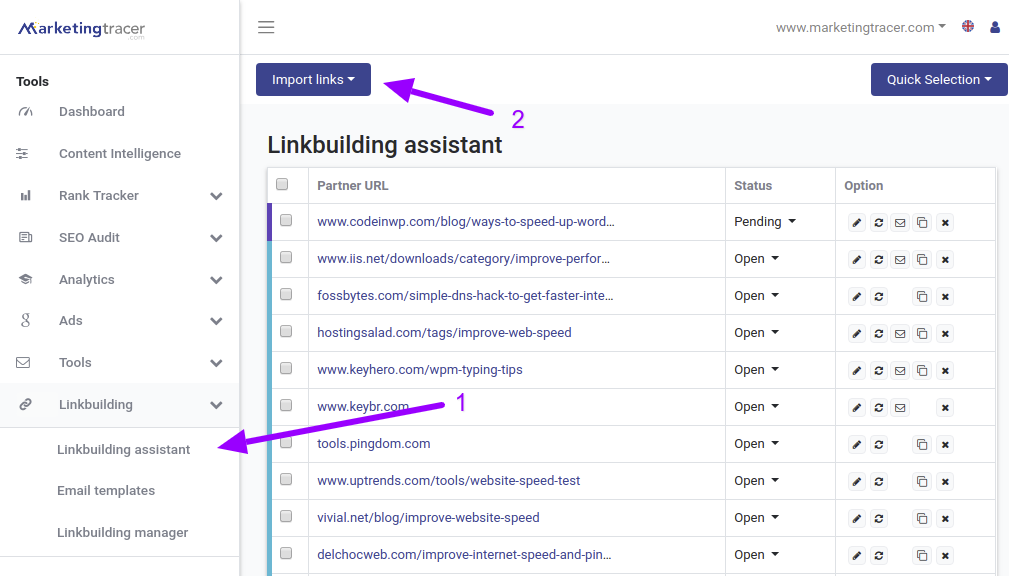 Then choose 1 of 3 available options
Single link
Multiple links
Search links
Choose 'sinle link' to quickly add a single linkbuilding prospect to your Dashboard
Use 'add multiple links' to quickly add a multiple link to your link building overview. You can find these links in your favorite link tool such asMOZ link explorer, Ahrefs of Neil Patel (free!)
Use the search function to search for possible linpartners. We search for a subject in the search results. By making smart use of the 'query', 'title' and 'url' fields you can search for specific link partners. For example, search for one on your topic and 'link partners' in the url. You will then find link pages about your topic. Or on your subject + "guest blog" to find guest blog options.
3.
Create link building contact templates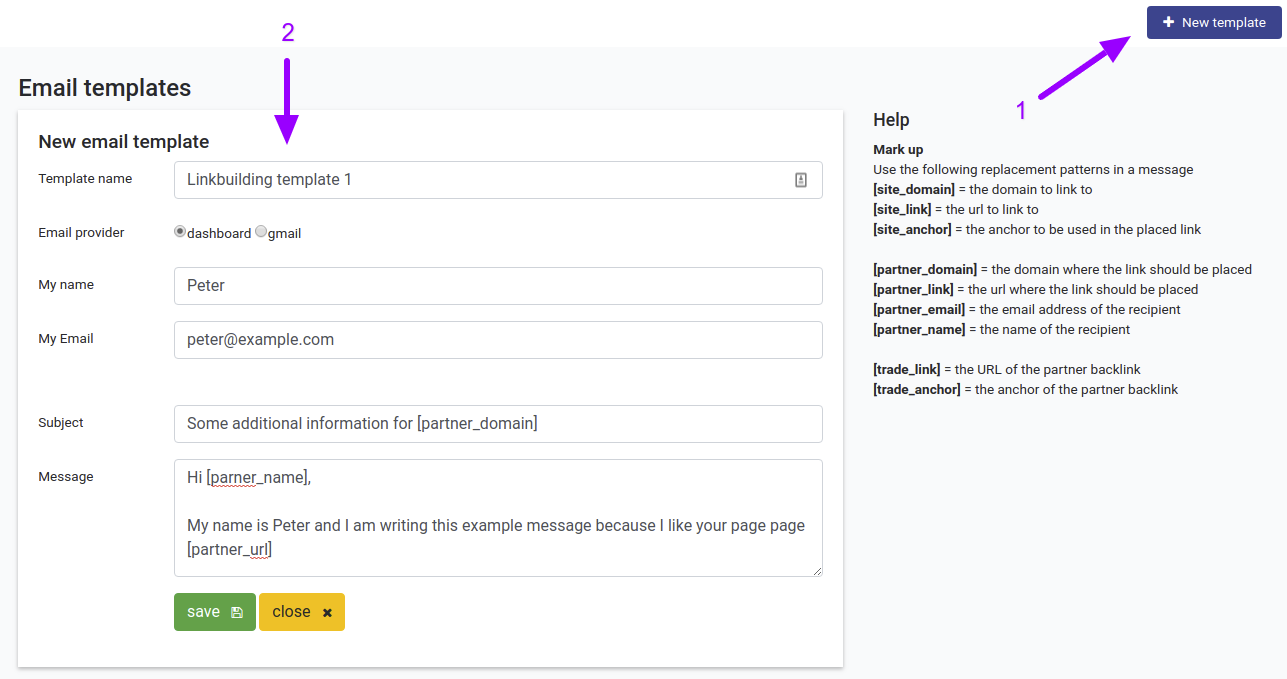 Once you have found contact information and before you send an email or can complete a contact form, you must create a template. In the menu you choose linkbuilding templates.
Then click on the new template and enter the details. The template is now ready to be used for contacting linkbuilding prospects.
The 2 functions of link building templates
Link building templates can be used to send e-mail and to quickly fill in contact forms. The dashboard can automatically send e-mails based on your templates and can use the link building template fields to fill contact forms based on the template at lightning speed.
Replacement aptterna
You can make a link building application smarter and more personal by using replacement patterns. These patterns are replaced by the correct values ​​in the link building email. You can use the following replacement patterns in a message:ht:
[my_domain] = the domain to be linked to
[my_link] = the url to link to
[my_anchor] = the anchor to be used in the placed link
[partner_domain] = the domain where the link should be placed
[partner_link] = the url where the link should be placed
[partner_email] = the email address of the recipient
[partner_name] = the name of the recipient
[trade_link] = the URL of the link that was returned to the partner
[trade_anchor] = the anchor of the link that was returned to the partner
Tips for sending mail
Reputation - Choose whether you want to send mail from the domain of the website or from another domain. Sending mail from the domain of the website ( your-name@your-domain.com ) is easy to set up and clear to the recipient. Mail from another domain created specifically for link building may be extra work and less clear to the recipient, but it will ensure that you protect the reputation of your domain name. Certainly if you plan to make many link building requests every day. For white label accounts it can be interesting to create your own mail domain to send e-mails from there.
SPF - An SPF record states who can and cannot send emails from your domain. Do you use an SPF record to protect your mail? Then add us. To make it easy for you, you can add our spf records to yours. Our record is _spf.seoserver.nl . Your SPF record then becomes something like v = spf1 mx a include: _spf.seoserver.nl ~ all
Unsubscribe link - we automatically add an unsubscribe link to every mail we send. When a recipient clicks on it, our system will no longer send emails to this recipient.
4.
Find linkbuilding contact information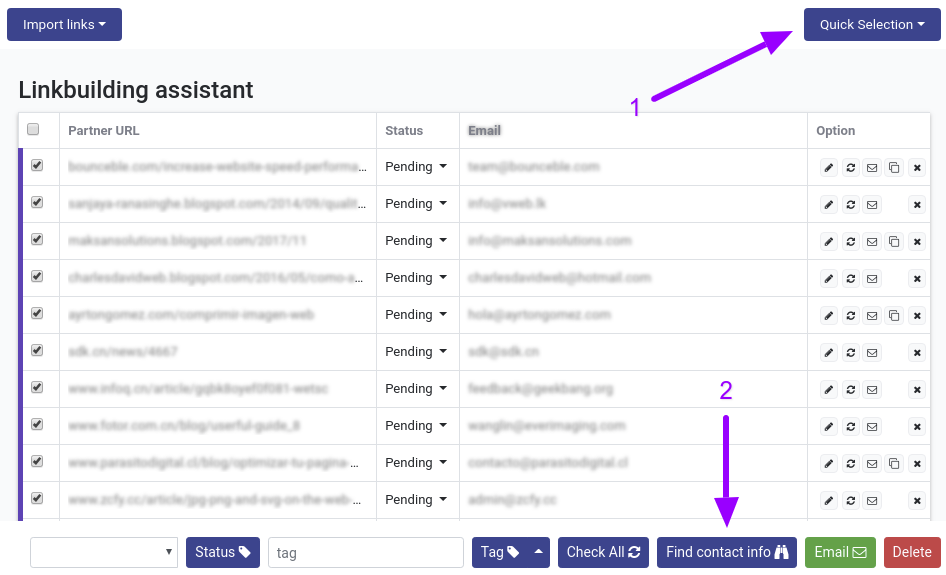 Finding link building contact information is a piece of cake. Select all backlinks partners without contact information or all new backlink prospects via the quick selection menu and click on 'search contact information'.
The system will then search for public contact information from the link partners. We look for contact forms for e-mail addresses. Once we have found these you can immediately see this in the link building overview
5.
Send linkbuilding emails
With the dashboard it is easy to send linkbuilding emails. Make a selection of the backlink partners to whom you want to send a message by selecting all links with e-mail in the quick selection menu. Then click on 'mail'.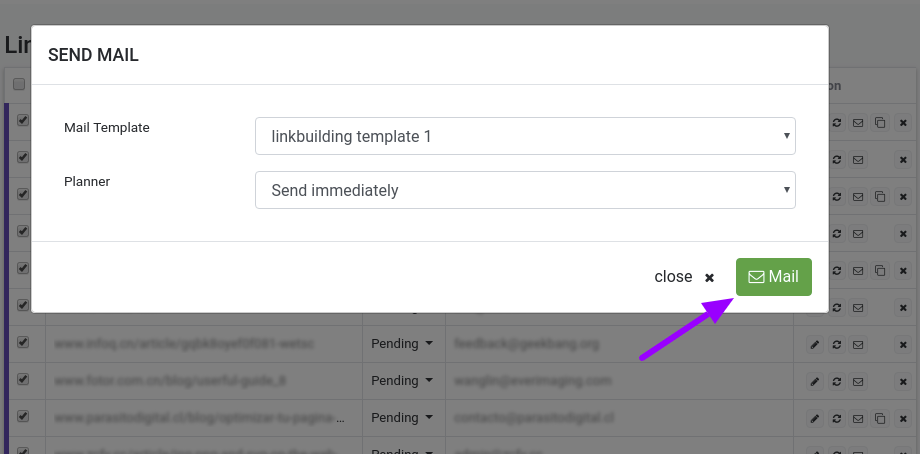 After this you enter the e-mail selection menu. Select the e-mail template that you want to use. As soon as you click send, the e-mail will be sent by the system.
Note: always make sure you know in advance that you can send e-mails to the receiving party. In case of complaints, we are forced to close our mail servers for your link building campaigns. You can then still send e-mails via your own mail server.
6.
Submit linkbuilding contact forms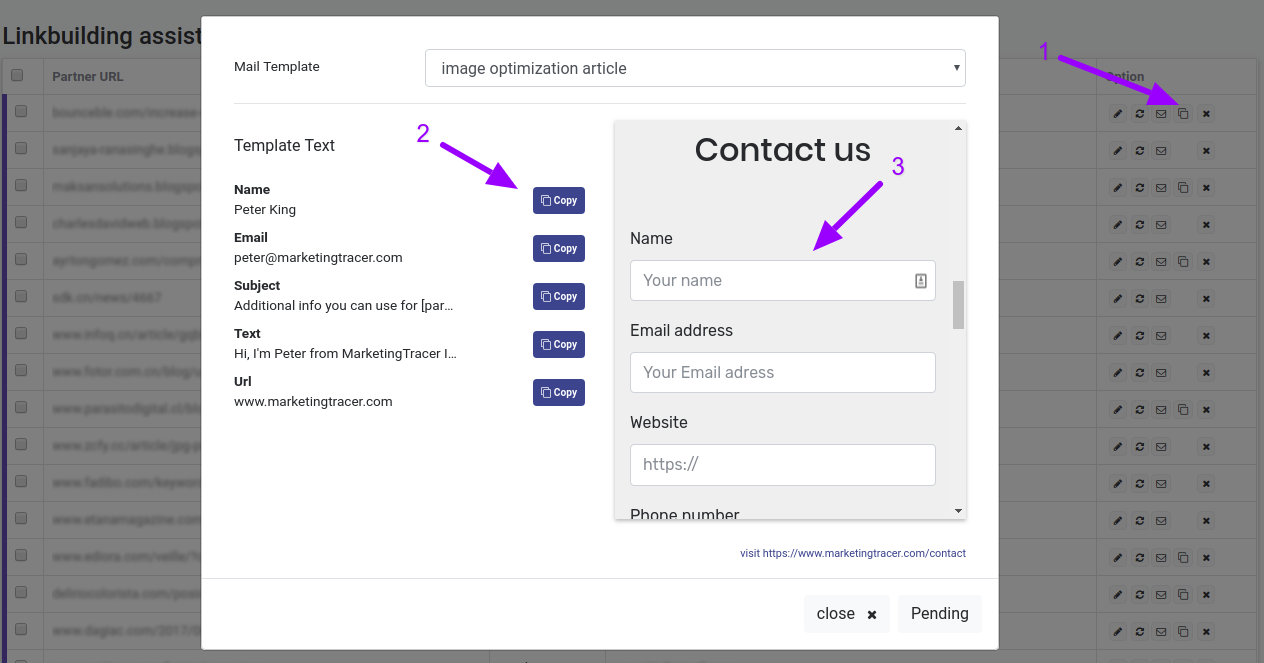 Contact forms are a great way to reach a partner. They (practically) never end up in the spam folder and are always well read. The disadvantage of a contact form is that it is difficult to fill in. Often you have an excel or word file handy that contains the standard text that you want to send to the partner. While filling in the contact form you have to switch a number of times between the form and your sample text, which means that filling in a form can easily take 1 to 2 minutes. We think that can be done differently.
With the dashboard it is easy to fill in and send contact forms because the form is displayed directly next to the template and you can immediately copy all texts.
Select a link partner with a contact form and click on the form icon. Now a page appears with all fields of your contact form, a copy button and the contact form of the link partner. Click on copy to copy a field (including all replacement patterns and the template) and simply paste the copied text into your partner's form. Send the copy and click on 'pending' to close the form and set the status of the link to 'pending'..